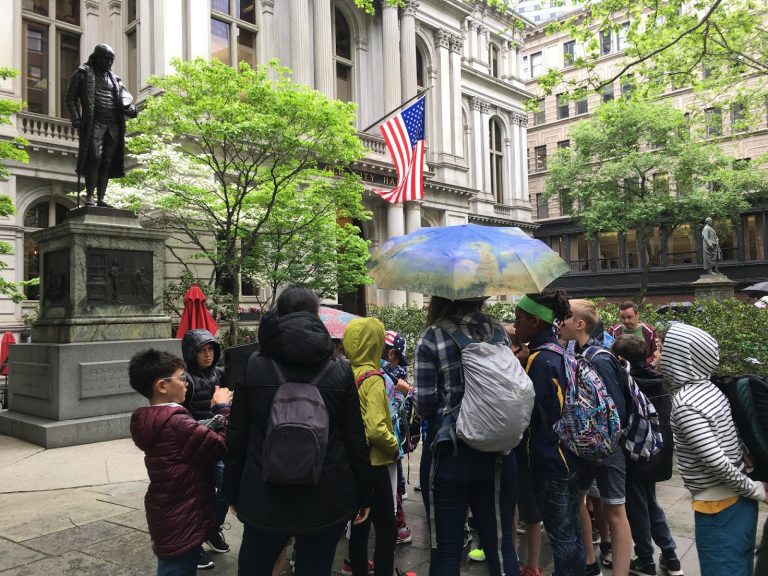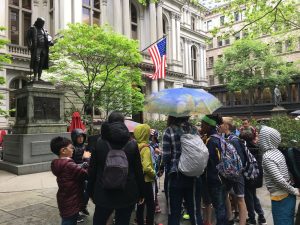 Despite the rainy weather, we had a jam packed day beginning with a trek on the Freedom Trail. Thankfully, our hotel provided us with a hearty breakfast buffet of eggs, bacon, sausage, potatoes, and French toast! 

The Freedom Trail took us back over 200 years to historical landmarks that brought to life the events of the American Revolution. From Paul Revere's home to the site of the Boston Massacre to the Old South Meeting House, the students made connections and asked thoughtful questions. It was a great deal of walking, but the trail allowed us to see so much of this incredibly historical city. 

Of course, the highlight of the day was the New England Aquarium. The shark and ray touch tank was an adventure not to be missed. It was a bit slimy but quite exhilarating to feel and see these beautiful creatures up close. An amazing feature of this aquarium is the enormous cylindrical tank in the center that spans all four floors and holds 200,000 gallons of sea water. Inside, there are hundreds of different sea life, the most memorable being Myrtle the giant green sea turtle. Be sure to ask your children about the penguins, the seals, and all of the beautiful, colorful, unusual aquatic animals they saw. Truly a unique experience!

Next, we made a quick visit to the USS Constitution, the oldest (220 years old) active naval ship in America. This ship is located at the Charlestown Navy Yard, and our guide was an active duty naval officer. The students had an opportunity to walk through the ship and explore its hull and cannons. They had quite a lot of fun climbing up and down the steep steps and investigating all of the nooks and crannies of the ship. 

After dinner, the final adventure for the day was the Haunted Walk of Boston. We met our guide in the Boston Common and took a tour around the Central Burying Ground Cemetery. Here, we listened to stories of Edgar Allen Poe's life, as well as historical accounts of mysterious events and tragic ends. Spooky and thrilling!

We had a busy busy day today, and our children were fast asleep as their heads hit the pillow. Tomorrow, we will visit the esteemed Harvard campus as it is never too early to dream big. We will also go to the Boston Museum of Fine Arts to immerse ourselves in the cultural arts.