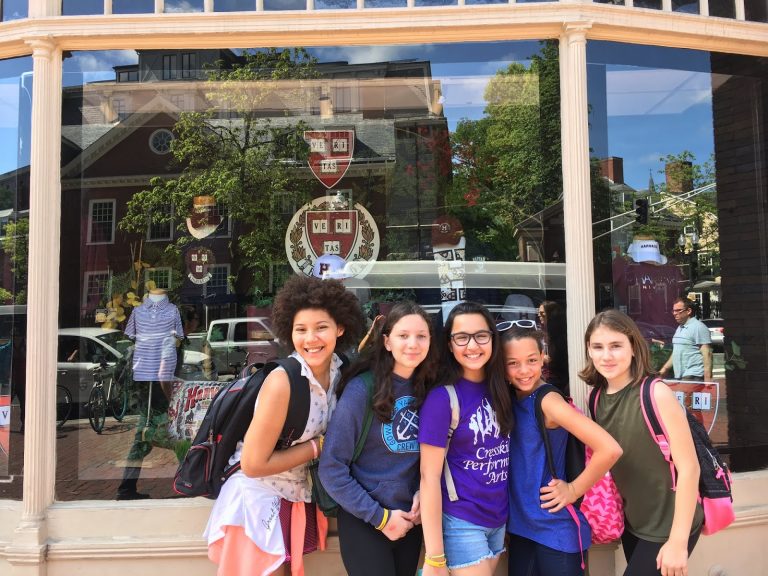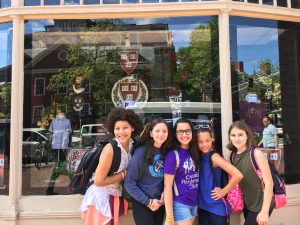 We could not have asked for better weather today. The sun was shining bright and strong, and at times, the shade offered a nice reprieve. After a good night's sleep and a well fed belly, we were off to our first stop, Harvard University!
Our visit to Harvard came the day before the university's graduation ceremony. Therefore, the mood on campus was one of excitement, elation, and expectation. It was a sight for our students to see graduates walking through campus in their crisp robes accompanied by parents dressed in their finest. Jackson, our tour guide, is a senior who will also graduate tomorrow. He shared fun stories of Harvard's rivalry with Yale as well as the rich history that has made Harvard one of the top universities today. Our students embraced the idea that they too could someday make this same journey and asked many questions ranging from how one gets into Harvard to the many sports the university offers to graduation requirements.
After a picnic lunch in the park, they had a chance to shop at the Coop which houses a gift shop of all things Harvard! In a funny twist of events, the students were appalled at how expensive everything was and vowed not to spend their precious money here. Fortunately, parents, you can now add this saved money to your children's college funds as Harvard's tuition plus room and board is at a whopping $70,000 a year!
Our visit to the Boston Museum of Fine Arts in the afternoon brought a different experience to the trip thus far. This is a museum with a diverse array of artwork and history to explore. The students saw beautiful and bold paintings by artists such as Monet, Van Gogh, and Rembrandt. They examined paintings depicting Revolutionary America as well as artifacts from this time period. They walked through various exhibits displaying Egyptian relics and musical instruments from around the world spanning hundreds of years. The students truly enjoyed their time at the museum, and it is clear that their work during the school year has given them a keen eye for studying artwork.
On a separate, but related note, our students received great praise from both the staff and other patrons of the museum for their respectful behavior and their level of engagement with the artwork!
Tonight, we returned to the hotel around 8 to give the students a chance to relax and take their time to unwind. We will get started early tomorrow as we have a bit of a drive to Cape Cod. There will be a visit to the beach and a boat ride out to sea to go whale watching. We are crossing our fingers for a sighting!