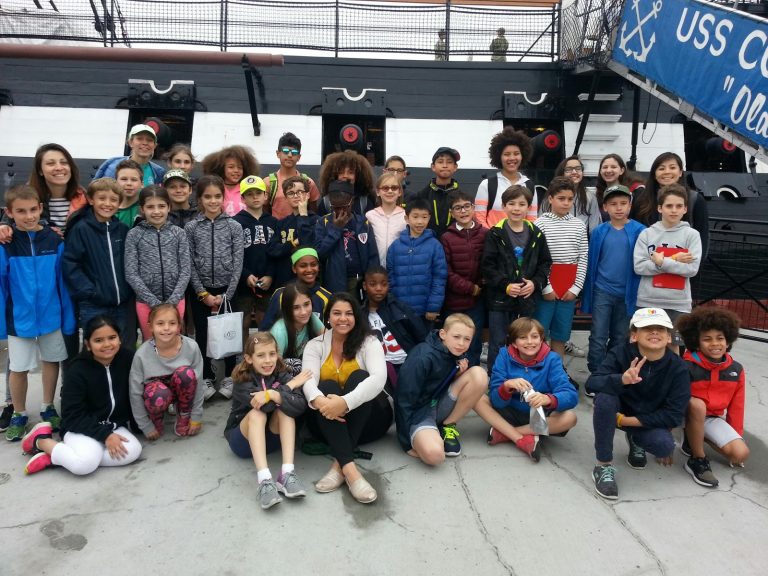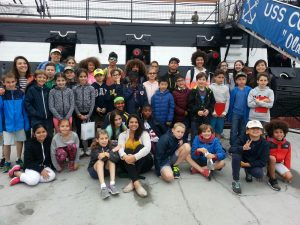 Our final day in Boston started with our students packing up their belongings and making sure that nothing was left behind. They took their time to check, double check, and triple check that they had not forgotten anything.  Upon final room inspections, we were happy to see that the children did an excellent job! At breakfast, they also took some time to write their families a postcard so please look forward to receiving a personal letter the old fashioned way, in the mail, next week.
As we headed out, we were rewarded once again with beautiful weather and warm temperatures. Our last stop in Boston would be a visit to the Boston Tea Party ship and museum, and what an experience this was!  From the start of the tour, we were brought back in time to December 16th, 1773, the infamous date of this historical event.  Each student and teacher was assigned an actual character that played a role in the Boston Tea Party rebellion.  We became part of the reenactment and even threw crates of tea off the side of the boat!  It was a wonderful way to experience history, and the children certainly had fun being part of the show.
Following our visit, we took one final walk through Boston and returned to Quincy Market for lunch.  Later, we said our goodbyes to our amazing tour guide, Annie.  She was patient, warm, and entertaining with the students, and flexible and knowledgeable when helping the teachers.  We were lucky to have Annie for the week, as well as our friendly and kind bus driver, Tom.
The week spent in Boston gave our students experiences and memories that will not be soon forgotten.  In addition to the visits to historical landmarks and museums, and the extraordinary moment we had watching the pod of whales, each of our students will go home with their own cherished memories of their time with their classmates where new friendships were formed and old friendships were reimagined or rediscovered.  As their teachers, we are so incredibly proud of our students.  The week away from home and their parents was not always easy, but they showed courage, responsibility, curiosity, kindness, perseverance, compassion, and self-control.  They displayed a sense of camaraderie that can only happen when pushed outside their comfort zones, and we thank you for allowing your children to have this experience and for your trust in us in guiding them through it.  Enjoy the weekend and until next year. . .