- Calendar & Parent Portals -
Jersey City
Preschool to Middle
Englewood
Preschool to Elementary
Get Involved with the Community and Make a Positive Impact on your Child's Education
Parents are a vital part of the community at the French American Academy. With more than 40 nationalities, we are a vibrant community of international individuals. We offer numerous opportunities for parents to get involved and build relationships with all members of the community. By being active in the school community, sharing the school philosophy, and welcoming new families, parents can contribute to a sense of belonging and engagement within the school community and help to promote the school's values.
Parents are the essential link between school and students. As a parent, you know how your child feels. For example, you know if he feels grumpy or if he is happy to go to school. As a result, you can help us better understand him or her. Moreover, you can also relay and amplify school messages. Finally, you can ensure homework is duly done.
Being a parent is not an easy ride! Of course, much of it is joy and victories to share. But there are also challenges, doubts, lack of time and many other things that can make you feel overwhelmed.
Get involved in one of our many exciting activities, connect with other parents, build new relationships and make a meaningful contribution to The French American Academy community. Don't miss out on this opportunity to make a difference!
Learn how you can get involved
Parent Teacher Organization (PTO)
Join our active PTO (Parent Teachers Organization) and make a difference at your child's school!
Our PTO is very active and organizes many events, such as the bookfair and wine tasting. The PTO works towards specific goals and programs and raises funds to support the school. We are always looking for more parents to get involved and share their skills. If you are interested in joining or want to contact the PTO officers, please send a message to:"
Join the ranks of our dedicated and engaged class parents, and take an active role in shaping your child's educational experience. In this role, you will serve as a vital link between the school and the parents in your child's class, helping to keep everyone informed about important events and answering practical questions.
Class Parents play a crucial role in supporting both communication and assistance within your child's class.
You will communicate information about school events
Answer practical questions for parents
Participate in school events 
Learn more about this essential role by reviewing our brochure .
Visit Us During the Parent Visitation Day
Every year our Preschool, Elementary, and Middle school invite parents into classrooms for a parent visitation day. Visit your child during the school day. Parents can observe a classroom lesson or interact with their children as they learn a new skill.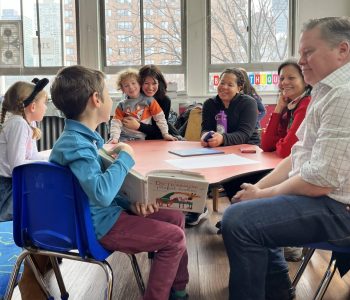 Become a School Ambassador
Help us spread the word about our school!
We highly value reviews as they allow other parents to gain insight into the quality of our school.
If you are pleased with the French American Academy's commitment to academic excellence, bilingual education, diversity, and student well-being, please consider sharing your positive experiences online through a review.
Your feedback is invaluable to us, and we appreciate your willingness to take the time to share your thoughts. Thank you for considering leaving a review – it truly makes a difference!
Google Reviews 
Niche Review 
If you are interested in getting more involved in our community or have any ideas on how you can contribute to our school, please do not hesitate to contact us at
info@faacademy.org
. We welcome your involvement and are always open to new ideas and suggestions on how to improve and grow as a community
Frequently Asked Questions
Checking in with your child's teacher regularly
Asking for progress reports or grades
Reviewing homework assignments and projects
Participating in parent-teacher conferences
Becoming a class president 
There are many ways that parents can get involved in their child's education at FAA, including attending parent-teacher conferences, participating in school events, and joining the PTO or becoming a class president.