In Elementary School at the French American Academy, our bilingual curriculum gives students a proven path to academic and personal success. First, it includes measurable progress in core skills like reading, writing, math, and science. Second, but equally important, it provides students with superior cognitive development and social-emotional growth through various aspects of academic life.
The Elementary curriculum develops bridges between the French Ministry of National Education program and the US Common Core to ensure students build a strong foundation for success in middle and high school and beyond.
Two Tracks Available in Elementary School
This is the natural continuity of your child's bilingual elementary education received at the French American Academy or at another French-American School. Students can speak, read, write and count in both languages at the 6th-grade entrance level.
In this track, students are not required to have prior French language and can start without any French Knowledge. This track can also be the natural path for French-speaking families who didn't choose a bilingual education during elementary years but would like to deepen their child's ability in French.
Elementary School Curriculum
Language Arts: Language skills are at the core of the elementary curriculum. In both languages, we want our students to explore and strengthen all areas: reading, writing, speaking and listening. 
Mathematics: We work collaboratively with Math and the City, a national center of research so we can provide a strong curriculum in computation, algebra, geometry, and data organization.
Testing in Elementary School
"Sometimes, the most brilliant and intelligent minds do not shine in standardized tests because they do not have standardized minds."       – Diane Ravitch
– FAA Testing Philosophy – 
Testing at the French American Academy serves as a benchmark to demonstrate the effectiveness of our bilingual approach.
We chose MAP Assessment in English as it stands for Measure of Academic Progress, emphasizing the importance of progress versus achievements.
We do not solely focus on preparing students for assessments, as tests do not prepare students for the real world. However, we recognize the importance of preparing our students to take tests and manage the stress that comes with it. While testing is a part of life, it does not measure fundamental qualities like curiosity and empathy, which are essential for a child's growth.
Encouraging children to take calculated risks, learn from their mistakes, and understand that growth comes from failures is the best way to set them up for success in life.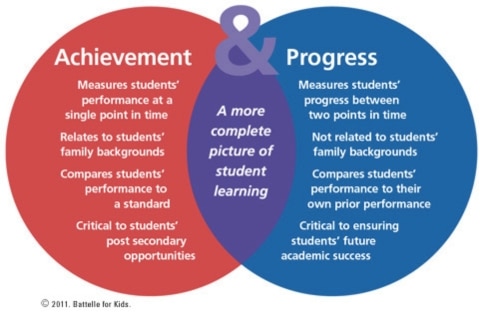 English – MAP Growth Assessment
What is MAP?
What is MAP? Measures of Academic Progress (MAP) is a computerized adaptive assessment program in English that provides FAA educators with the information they need to improve teaching and learning and make student-focused, data-driven decisions. 
To who and when are MAP assessment given?
Students in grades 1 through 8 are tested two times per year in math, reading, and language usage. Students complete their 1st assessment in October to establish their starting benchmark.
In June, students complete the 2nd MAP assessment to measure how much they have progressed over the year. Educators use the growth and achievement data from MAP to develop targeted instructional strategies and to plan school improvement.
Why is it useful?
What matters for us at the French American Academy is to see students grow and reach their full academic potential. Therefore, choosing MAP testing came as a natural choice. After each assessment, teachers are provided with accurate, actionable evidence to help inform instructional strategies regardless of how far students are above or below grade level.
French – French National Evaluation & DELF Exam
French National Evaluation 
As a private school accredited by the French Government, we are following the recommendations from the Ministry of National Education in terms of standardized tests. Therefore, in September, 1st and 2nd graders are taking a test in Math, Reading and Writing like any other 1st or 2nd graders who live in France.
DELF Exam
What is DELF? The DELF exam assesses four language skills: listening comprehension, reading comprehension, speaking skills, and writing skills.
How is it taken?
3rd, 5th, and 8th-grade students at the French American Academy take the DELF exam (Diplôme d'études en langue française). Official diplomas are awarded by the French Ministry of Education for proficiency in French as a Foreign Language
Learning beyond the Classroom
Field Trips
Examples of past trips:
The 2nd and 3rd graders spend three days and two nights in the Catskills or in Connecticut. Animals and habitats, sustainable development, recycling and compost, and the "Flying Squirrel" are among the highlights of the trip.
The 4th and 5th graders travel for a complete week. In other words, they are out for 5 days and 4 nights. Typically, we alternate between two trips :
A one-week trip to Quebec, Canada, for the cultural connection
A historical trip to Boston and Plymouth for the social study curriculum.
"This was the best time of my life" was a repeated exclamation from participants upon their arrival back in NJ. Read more on field trips by visiting out field trips page. 
Educational Trips are a lot of fun! But beside this obvious benefit, there are many others that come into play. Among them, you can find :
Developing cohesion among the group
Building confidence
Developing a sense of autonomy and responsibility
Proposing different ways of learning
Living an unforgettable adventure with classmates!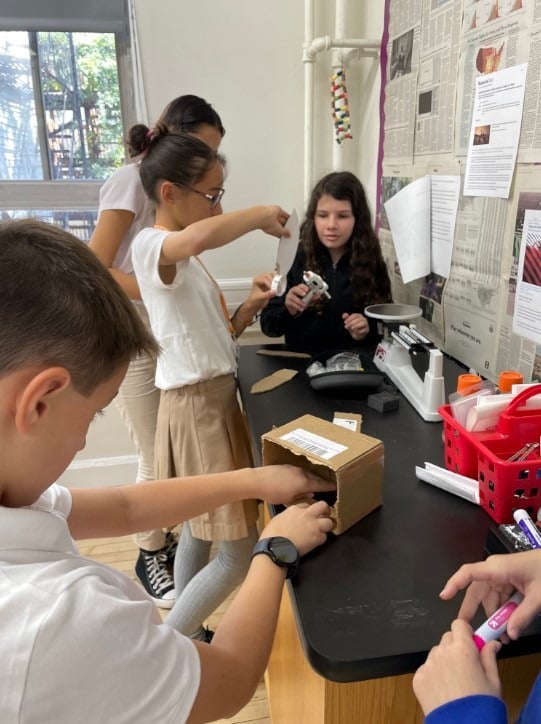 Discover, Play, and Learn
Our after-school enrichment program offers elementary students a variety of activities to discover new interests and have fun. From gymnastics and chess to piano and lego robotics, we aim to nurture a love for learning outside the classroom.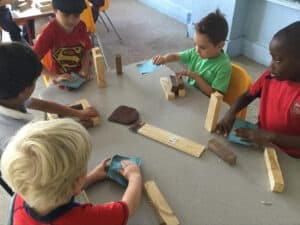 Discover what's new in Elementary School

Elementary School
Mathematician and "human computer" Shakuntala Devi said "Numbers have life, they're not just symbols on paper". Indeed, seeking the stories and information behind numerical data
Read More »
In Elementary school at the French American Academy, French proficiency is not a requirement However, for students in 1st grade and up, we offer two French language tracks to choose from! The Bilingual Track does require some prior knowledge of French, while in the Accelerated French Track students do not need to know any French. But don't worry, we understand that language learning can be challenging and offer additional support to ensure all of our students succeed. Plus, our nurturing environment is perfect for helping students thrive and reach their full potential. 
In Elementary school at the French American Academy, all of our French teachers are from countries where French is the official language and speak French as their native language and all our English teachers are native English speakers.