Discover the School Life at Our 3 Campuses
Welcome to our School Life page for our Jersey City, Englewood, and Hoboken campuses.  Here, you'll discover everything that makes our school a warm and engaging community. From hours to after-school activities, we provide a comprehensive overview of the experiences that make The French American Academy unique.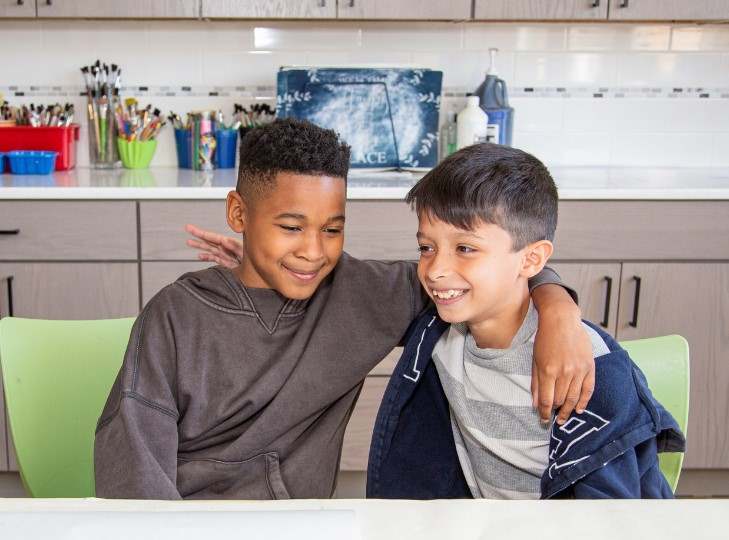 First opened in 2012, our Jersey City preschool, elementary, and middle school offers high-quality bilingual education for more than 200 students.
"Great School where kids are happy and stimulated. We have know the school for 8 years and have 3 children there. The teachers are fantastic with a great overall energy and lots of ideas to stimulate the children. The director is at the door almost every morning and greets every child by his/her first name - says it all".
"I love the French American Academy of Jersey city and I will be forever grateful that my kids had the possibility to be part of this great community ! The school it's a beautiful environment where my kids were able to grow and thrive all these years! "
"Very happy with the education our daughter receives at FAA. The assistant principal for the preschool section is phenomenal and FAA's teachers are kind and caring. A great environment for our child to learn in French."
We would like to warmly welcome you to our Englewood School which offers our high-quality bilingual curriculum and philosophy from Preschool through 5th grade.
"Our daughter has been going to this school for the past 4 years and her and us are loving it. More than a school, we have found a community where everyone knows and support everyone. The friends she made there will be lifetime friends. She is now completely fluent in both languages and in first grade can also read and write in both languages. The curriculum is rich and includes art and music from the youngest age."
"Small class size and very attentive teachers. The school operates like a small community. The school is sensitive and very responsive to child allergies and that is very important to me. My son started the school at age 2 already fully understanding French, however, he did not speak it back. Being fully immersed in this environment has gotten him to a place where he is comfortable speaking the language and at 3 he is actually speaking both English and French, knows who to speak which language to and can even translate for me (non-French speaker)."
"Excellent school ! Our children aged 6 and 9 have been attending school recently and we are delighted how the educational community takes care of them. The community of this school is extremely benevolent and helps us, as new expats, to feel at home !!!"
Our bilingual preschool in gives children a headstart in becoming lifelong learners, critical thinkers, and dynamic problem solvers. Students are not required to know any French to enroll.
"My wife and I were so excited when we heard FAA was opening up a preschool in Hoboken. We jumped at the opportunity to give our daughter a well rounded education with an institution led by educators with kids' future at heart. We've been really happy with the teachers, the program, the staff, and uniqueness that FAA brings to our daughters care & education. As an American born Frenchman with strong ties to France, it warms my heart to hear my daughter already count to 10 on her own with only 3 months of instruction. I can't wait to see the progress she makes for the remainder of this year and beyond."
Frequently Asked Questions
Yes, we provide a bus service. Please check each campus page for more information.