Developing Citizenship as an Eco-School
Citizenship is one of our 6 C's, the 21st-century skills students need to succeed in the world of tomorrow. It's about making students globally aware, and developing within them the concept of "agency."
At FAA, we prioritize education for sustainability to equip our students with the power to drive change. Through sustainable projects, we engage students in fun, action-oriented, and socially responsible learning that focuses on embedding transformative thinking into everyday life and communities.
Our Eco-school initiatives include 17 Un Goals, The Eco-delegates, Carbone 0, Gardening and Nutrition, Photo ODD, Ma Petite Planete, Les Foulees Olympiques and Ecoschool label.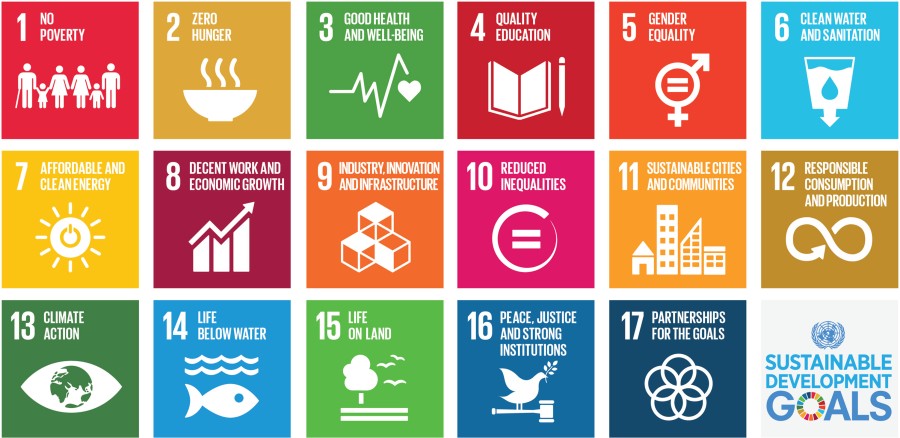 Sustainability on Campus
Building a sustainable future together
The 17 UN Goals for Sustainable Development are part of our daily life at the French American Academy. Our students, teachers, staff, and parents are actively involved in these 17 interlinked goals designed to be a "blueprint for achieving a better and more sustainable future for all."
Sustainability on Campus
The Eco-delegates / Les Éco-délégués
Student-led Eco-delegate group that actively engages students & community
Our eco-delegates are students from fourth to eighth grades who create and plan environmental initiatives for our school. Students serving as eco-delegates not only take proactive steps to protect the environment, but they also have the opportunity to teach and model good behaviors for their classmates, sharpening their leadership and communication skills.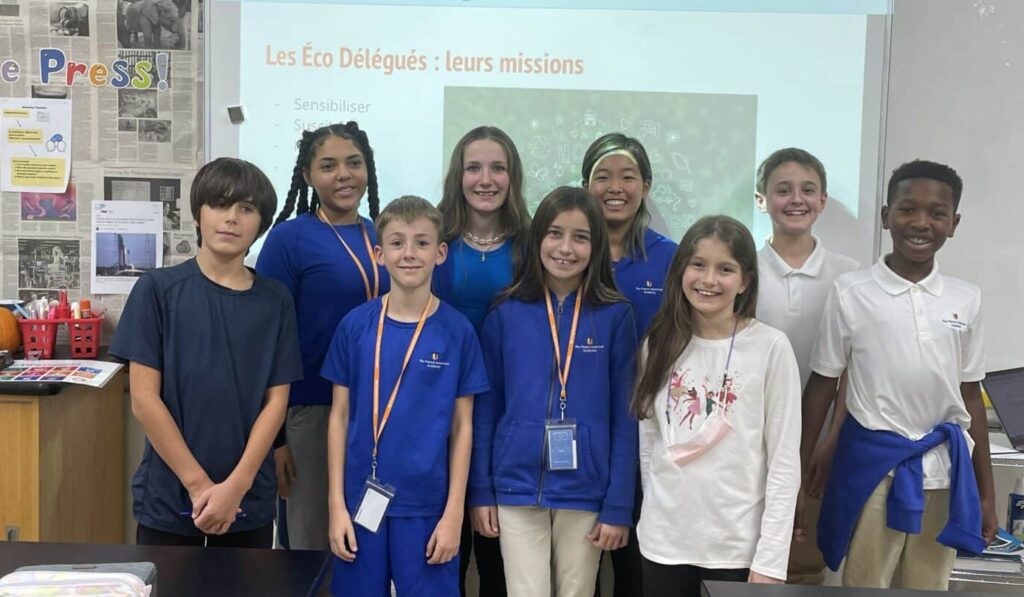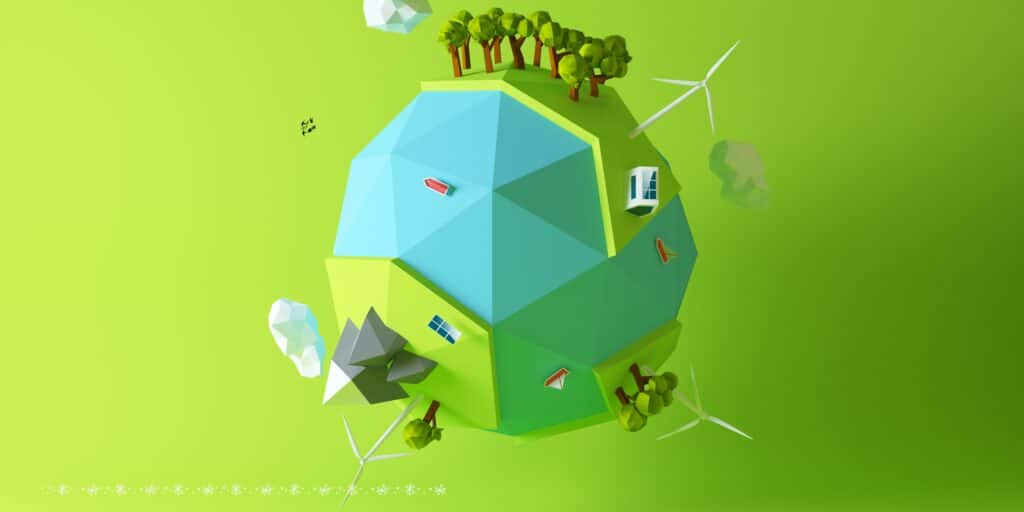 Sustainability on Campus
Empowering students to promote sustainability and protect the planet
Our students and community have firmly committed to promoting sustainability and reducing waste through a recycling program. We collect and recycle materials such as paper, plastics, and aluminum. Along with clean-up efforts, our students have actively taken steps to reduce their environmental impact. We also aim to educate and raise awareness within our community on ways to reduce their environmental impact.
Sustainability on Campus
AEFE project to raise awareness, educate, and launch actions around sustainable development
The aim of ADN Carbone 0 is to unite teachers and 4th and/or 5th-grade classes (ADN Carbone 0 Junior) from schools in the French educational network abroad to develop and build together a common educational project. 
There are 3 phases of the partnership
Connect to know each other and share our cultures
Sharing our projects related to Sustainable Development
Take action during the 0 Carbon DNA week ((May 15-May 21)
During the final semester, our students engage in eco-friendly actions related to reducing and increasing awareness of carbon emissions caused by digital communications. As part of this initiative, our students engage in small debates based on a chosen quote from around the world. This year, our 4th and 5th-grade students from both schools have partnered with the French Lycée of Mexico through the ADN Carbone 0 Junior project.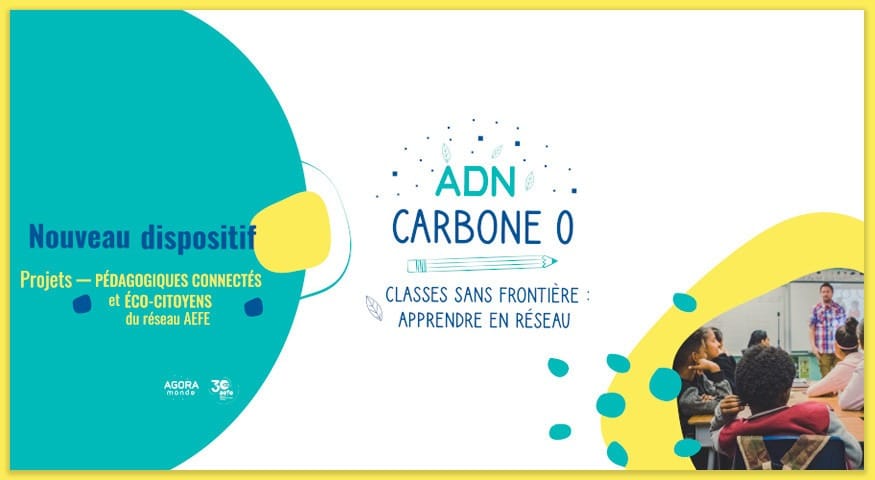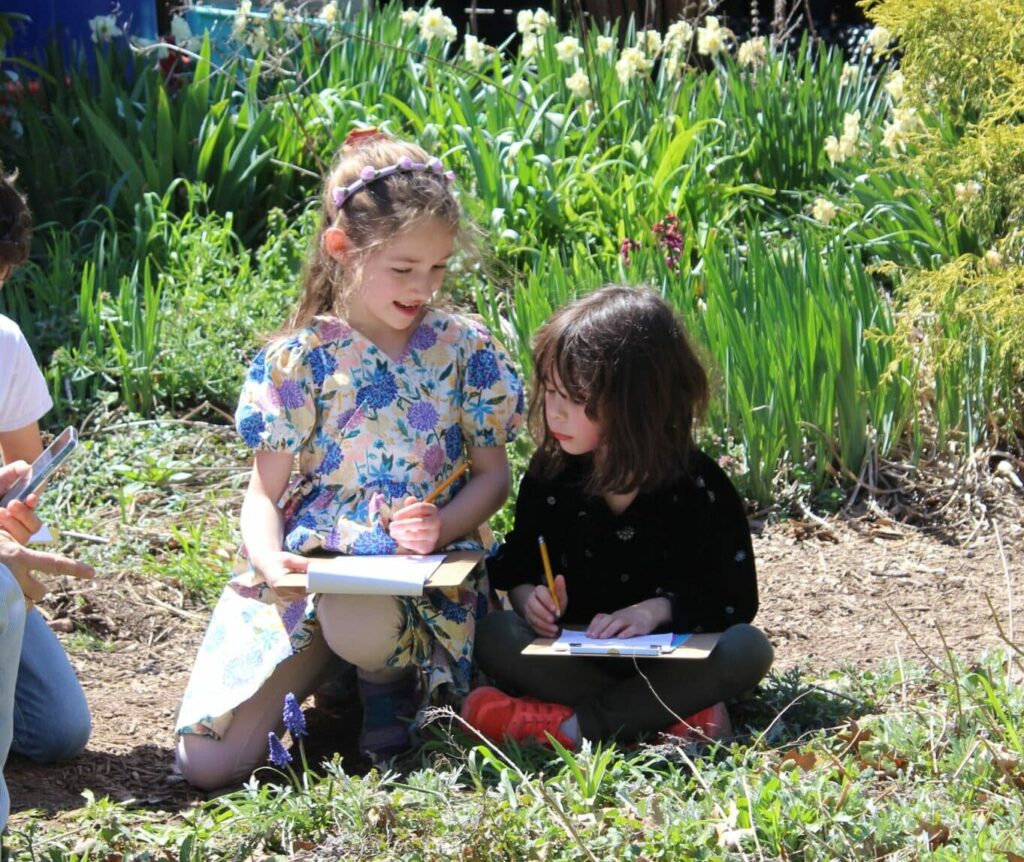 Sustainability on Campus
We engage students in science and sustainability through a community garden
We have a plot in the nearby Brunswick community garden in Jersey City, and a large field at the Englewood Campus
Preschoolers to middle schoolers visit the garden to experiment nature and gardening and study topics such as plant growth, insect life cycles, and the critical role pollinators like bees play in our ecosystem. Through these hands-on activities, our students can make connections between science, language, and sustainable development. By engaging with the natural world meaningfully, students develop a deeper appreciation for protecting our planet and its resources for future generations.
 Sustainability on Campus
Promoting sustainability through photography
We are promoting sustainability through photo ODD competition illustrating the 17 Sustainable Development Goals (SDGs) through photography. This initiative provides an opportunity for students to think critically about how we might visualize each goal within a single picture while promoting awareness of the SDGs. Staff and parents are also welcomed to participate in competition.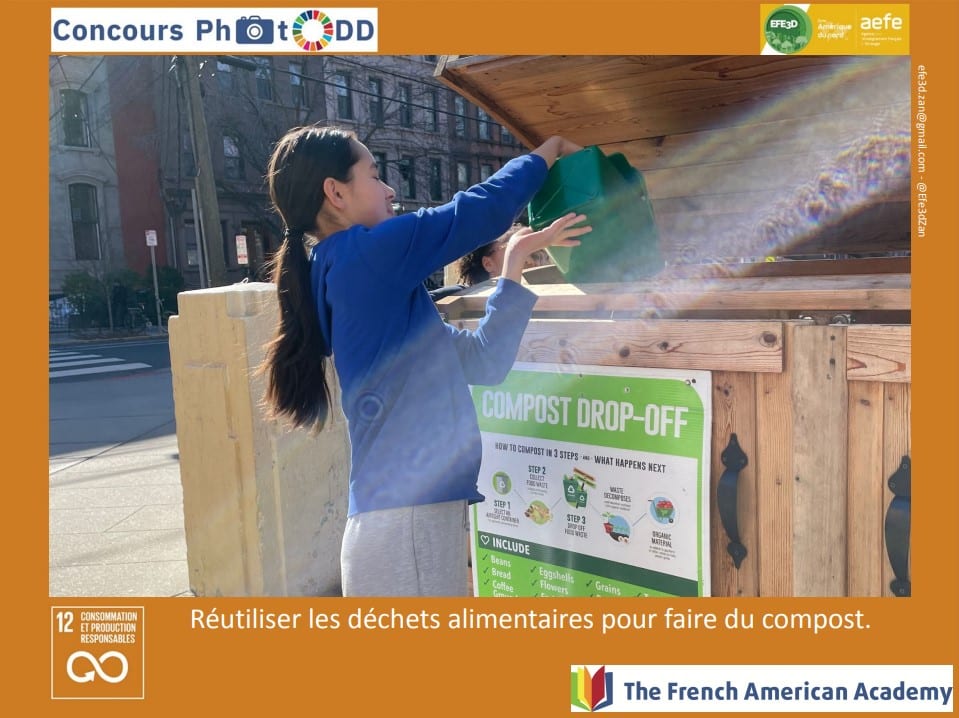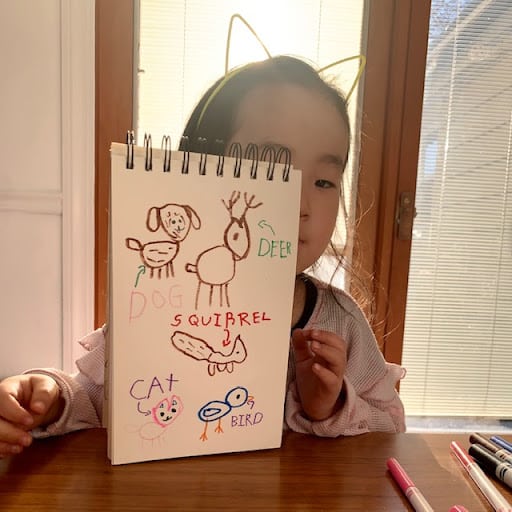 Sustainability on Campus
Small Actions Can Make a Big Difference
My Little Planet challenge, encourages our students of all ages to take part in eco-friendly actions, such as recycling, walking or biking to school, reusing materials, enjoying nature. While the students' deeds are each small and manageable, they are linked to much greater goals for the planet. All actions are linked to the 17 UN goals. The challenges are adapted student's ages, with older students being challenged to make more responsible choices for themselves. The challenge demonstrates that even small actions taken by students can make a significant difference in achieving a better and healthier planet.
 Sustainability on Campus
Recognition of our school's commitment to sustainable development
The Eco-School Label focuses on sustainable development and sustainability in private schools. It includes involving students in the process, improving the school's material aspects and human relations, connecting with the local community, and working with local partners.
The EFE3D label, specific to the AEFE network, was created to recognize schools committed to sustainable development. The label indicates the level of progress made by the schools. In June 2022, our school received level 1 (commitment) certification.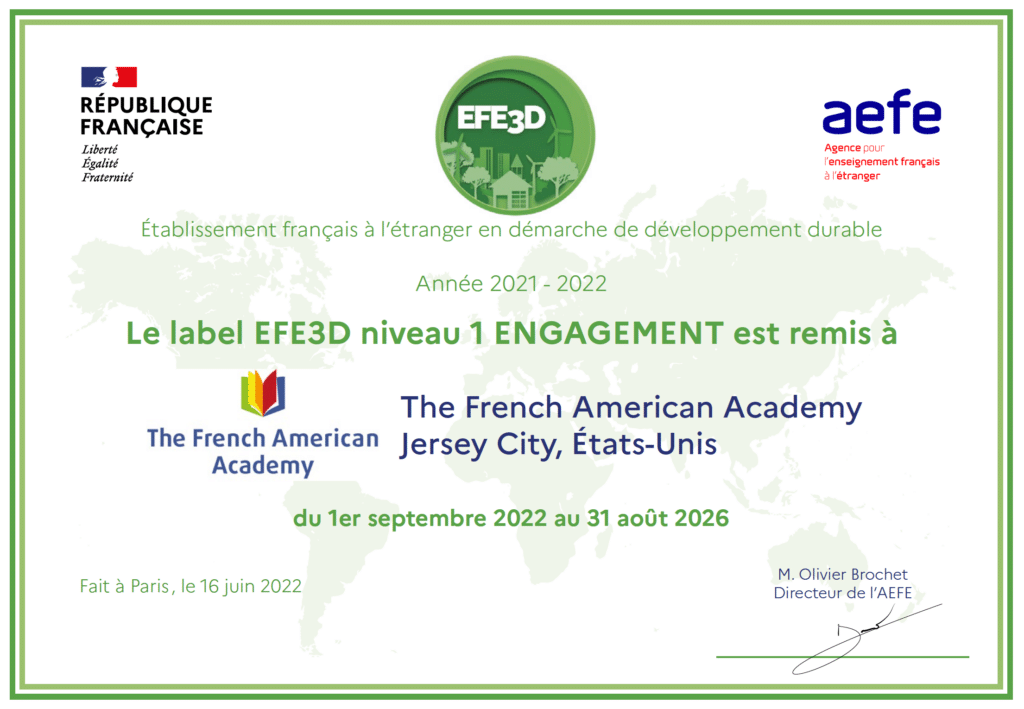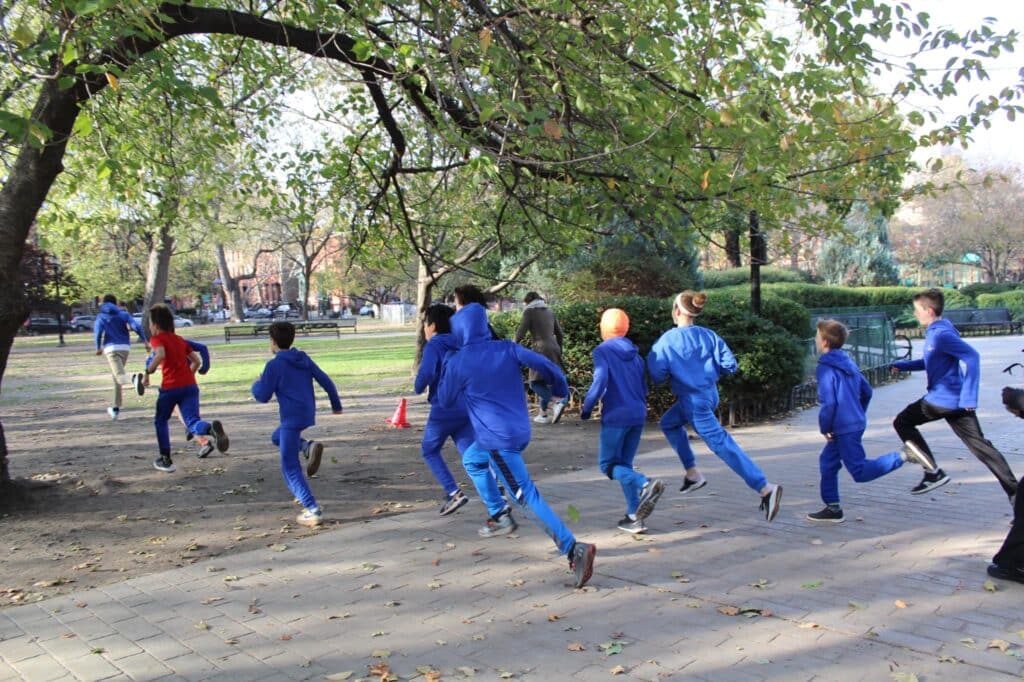 Sustainability in private school
Empowering students to promote sustainability, health, and social responsibility.
Every year, the FAA hosts "The Foulées Olympiques," an event where students raise money for a charitable foundation. For instance, in 2022, the students raised funds for the Georgie Badiel Foundation to provide clean water to a Burkina Faso village by constructing wells. Furthermore, the Foulées Olympiques promotes physical fitness and mental resilience while motivating students to make a positive impact through their actions, all of which are integral to a sustainable and healthy lifestyle.
Discover Our Sustainable Initiatives for a Better Tomorrow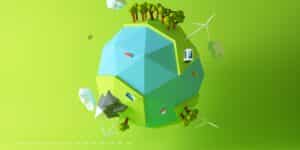 Elementary School
For the last three weeks, students of all ages at the French American Academy have been boosting their efforts to reduce waste, recycle plastic and
Read More »

School Life
To consolidate its involvement in sustainable development, the French American Academy has entered the AEFE's PhotODD competition. The word PhotODD is a combination of photo
Read More »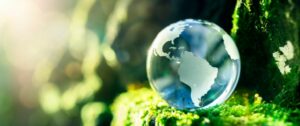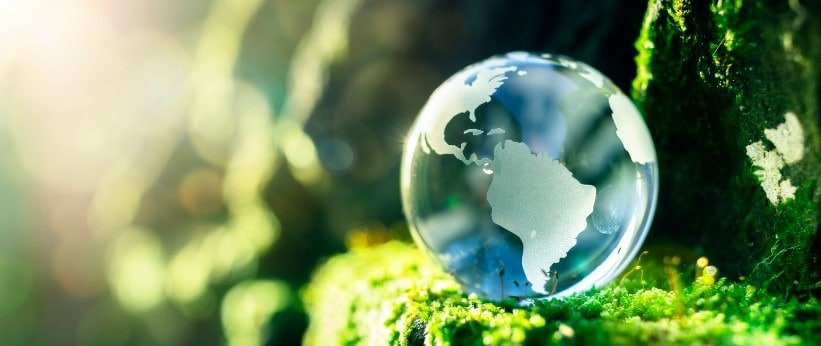 Middle School
Eco-Delegates at The French American Academy The issue of climate change is at the heart of the debate today: it is urgent to act for
Read More »