Through the dual lenses of French and English, we immerse our young learners in a supportive and nurturing learning environment that helps them develop a sense of self, self-awareness, and an early understanding of their world from two perspectives.
Through our project and play-centered learning, our students are exposed to an array of hands-on experiences and social interactions that set the stage for academic success and a love of learning.
Bilingualism in Preschool
Developing Cognitive Abilities 
Brain stimulation is the strength of bilingualism. By constantly juggling between two languages during the day, more synapses are fired. In other words, students' brains are pushed to develop faster than if they were exposed to only one language.
In our international preschool, students are immersed in French 80% of the time. Research has shown that placing a child in situations where they are surrounded by a second language will allow them to pick up on the grammatical knowledge faster and better. We gradually add more hours of English to reach a split of 45% English and 55 % French by elementary school.

The program they offer is unique: it blends 2 programs (American and French) and goes beyond. The American and French teachers are simply amazing: The teachers are dedicated to the student's success and take a very individualized approach so that everyone feels included and heard.
The community is international and very caring: parents, teachers, staff. Everyone works together to help children grow and thrive. Bravo!

My children have attended FAA for many years. We love the focus on academics, sense of community, and diversity of the school. They provide a rigorous curriculum that challenges and inspires students to reach their full potential. The faculty and staff are highly qualified, passionate, and dedicated, and they work to ensure that each child receives personalized education and care. It provides a unique educational experience that prepares students for success in a global society while instilling values of empathy, compassion, and community.
Jessica, mother of 3 students

My daughter has attended since the FAA opened in 2013, and she absolutely loves her school. Why should you consider this school? For a French family it is a no-brainer. Half of the teachers come from France bringing with them the culture and teaching philosophy. The level is significantly above public schools in France. Even for French parents settled permanently in the US, why deny your child the chance to be completely fluent and be able to communicate in French with grand-parents back home? For American families, the English program is very rigorous, with advanced materials, and children are at no disadvantage vs those in the best private schools. 8th graders have gone on to some of the best high-schools in NY/NJ. As a bonus you will enjoy being connected with the international community of the FAA. And yes your child will be bilingual.
Steven, father of a 6th Grader

"It's a wonderful school! Our daughters did not speak French until a couple of years ago, and now they love it! They are also getting so excited about reading and math. We love the small class sizes and the intimate feel."
Parents of Elementary Students

"Our son attends the Middle School and we have been very impressed with the quality of the teaching and his bilingual educational experience in Math, Science, and Humanities overall. You don't have to be from a French-speaking country to feel welcome and see your child thrive. We would highly recommend the Middle School to prospective families."
Parent of Middle Schooler

"Small class size and very attentive teachers. The school operates like a small community. The school is sensitive and very responsive to child allergies and that is very important to me. My son started the school at age 2 already fully understanding French, however, he did not speak it back. Being fully immersed in this environment has gotten him to a place where he is comfortable speaking the language and at 3 he is actually speaking both English and French, knows who to speak which language to and can even translate for me (non-French speaker). The school also keeps up with technology, there's an app where the teachers post often and there's a communication weekly letting us parents know what the focus is for the week. I'm very pleased with the school."
Learning Through Play
How We Teach
The main objective of our play-based curriculum (which evolves into project-based in elementary and middle school) is to make students want to learn. Since the last 4 decades, the consensus on early childhood development research has been that children learn best when they are having fun, and for preschool-aged children, fun arises in play.
In our international preschool classes, learning objectives are embedded in purposeful play-based activities like painting, drawing, singing, dancing, constructing, etc. Through this method, students acquire deeper knowledge through active exploration.
Most importantly, our teachers consider children's interests and unique abilities and support preschoolers' individual growth in an engaging, fun, and structured learning environment.
3 Key Pillars of the Preschool Program
We are preparing our students to be future leaders. Through games, students learn how to be a student in a classroom community, to collaborate and communicate effectively with their peers, no matter their cultural background.
We engage students in activities that foster responsibility and autonomy to develop an early sense of self as an individual. We aim to help our students to take pride in their identities and to grow their self-confidence.

Oral language is the bedrock of all learning. Students prepare for reading & writing by learning sounds, syllables & phonics in both language
Preschool & Kindergarten Curriculum
All aspects of the curriculum are enhanced through multi-sensorial activities that stimulate curiosity, promote critical thinking, and develop social skills. Another key point to mention is that these skills are part of the 6Cs that we enforce throughout the entire school's curriculum.
In our International preschool, our bilingual curriculum is organized into five interrelated domains.
Day in the Life of a Preschooler
In our international preschool, early learning is an essential step in the students' journey to guarantee academic excellence and success. Thus, in PreK2, PreK3, and PreK4, children learn to become autonomous and develop an early sense of self as an individual. Supported by their teachers, they interact and live together through active engagement in a positive environment. Moreover, they get a healthy start and develop autonomy, strengthen oral language and discover writing and number concepts. Likewise, they begin to experiment in science, develop physically through gross motor activities and create artistic projects.
| | |
| --- | --- |
| Time  | Schedule  |
| 8:15 am to 8:30 am  | Drop-off |
| 8:30 am to 8:45 am  | Morning Meeting |
| 8:45 am to 9:15 am  | Language workshop, constructing numbers, world discovery + workshops to build autonomy |
| 9:15 am to 9:45 am  | Motricity activities & sports |
| 9:45 am to 10:30 am  | Snack time + Outdoor time |
| 10:30 am to 11 am | Arts (painting, collages, etc…) |
| 11 am to 11:30 am | Language workshop, constructing numbers, world discovery + workshops to build autonomy |
| 11:30 am to 11:45 am  | Classroom cleanup |
| 11:45 pm to 12:30 pm | Lunch Time |
| 12:30 pm to 12:45 pm | Bathroom time + falling asleep |
| 12:45 pm to 2:15 pm | Nap time (need based) |
| 2:15 pm to 2:45 pm | Language workshop, constructing numbers, world discovery + workshops to build autonomy |
| 2:45 pm to 3:00 pm  | End of the day meeting on the rug |
Kindergarten is an exciting transition as students blend what they have learned in preschool with more structured academic activities and routines. As a result, Kindergarten plays a pivotal role between early childhood and elementary school. This is the grade where students begin the formal reading program in English and become independent readers and problem solvers.
Practical Information | Preschool & Kindergarten at Glance
PRE-K2
PRE-K3
PRE-K4
Kindergarten
Hours
PRE-K2
Amount of Instruction in French: 80%
Age of Admission: 2.5 years old by December 31st. 
Admission requirements: Potty training is not required.
Teacher-student ratio: 1 to 6 students
PRE-K3
PRE-K4
Kindergarten
Hours
Field Trips
Learning beyond the classroom
We understand that real-world experience is essential for a child's growth, which is why we organize exciting field trips that complement what student are learning in class.
From visiting the local firehouse and learning about fire safety to exploring the wonders of science at the Liberty Science Center, or appreciating art at the Montclair Art Museum, our preschool students experience different environments outside the classroom, enhancing their education.
In elementary & middle school, day trips become overnight trips! Learn more by checking out our field trip page!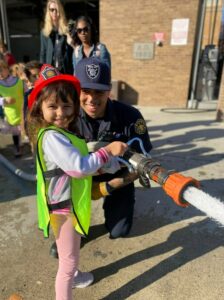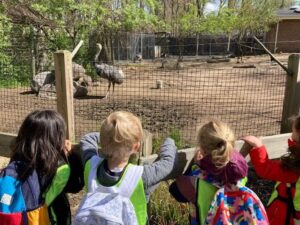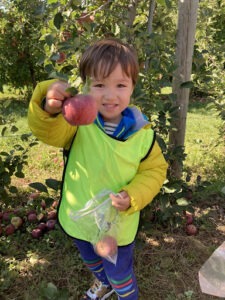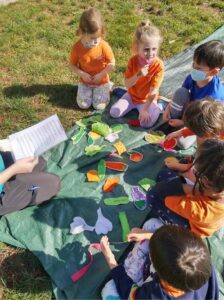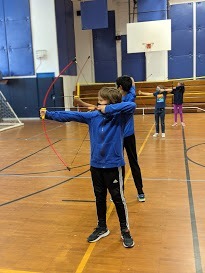 Continuing student learning after-school
Our after-school enrichment program offers students a variety of activities to discover new passions while having fun!
Examples of current enrichment activities include:
Lego Robotics
Woodworking
Yoga & Mindfulness
Sports (Gymnastics / soccer / basketball, etc)
Piano
Cooking
Acting in French
Modern Dance
Chess
and much more!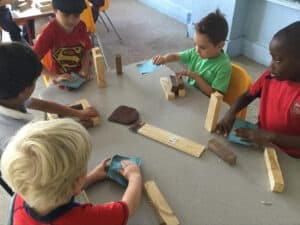 Discover our Campuses
Jersey City, Hoboken & Englewood
All of our International preschool locations at the French American Academy follow the same curriculum and philosophy. Learn more about our New Jersey preschools in Jersey City, Hoboken, and Englewood.
Jersey City, NJ
Preschool to Middle
Englewood
Preschool to Elementary
Discover What's New in Preschool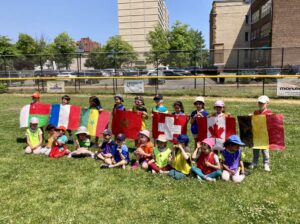 International Education
On Wednesday, May 31 and Thursday, June 1, all of our Pre-K/Kindergarten students and elementary students enjoyed participating in 3 hours of teamwork, sportsmanship, and
Read More »
Preschool & Kindergartner FAQs