Imagine living in a situation where every drop of water is precious, where instead of just turning on the faucet, the effort to get water involves walking for miles and carrying heavy loads for you and your children. This is the modern-day reality for people dealing with water scarcity all over the world, and Georgie Badiel is on a mission to change that. She recently visited our Englewood and Jersey City campuses to share her vision of clean, accessible water for African villagers, before our students ran laps to raise funds for her organization.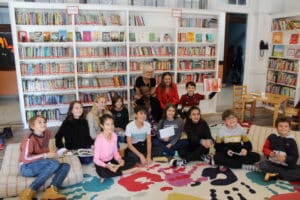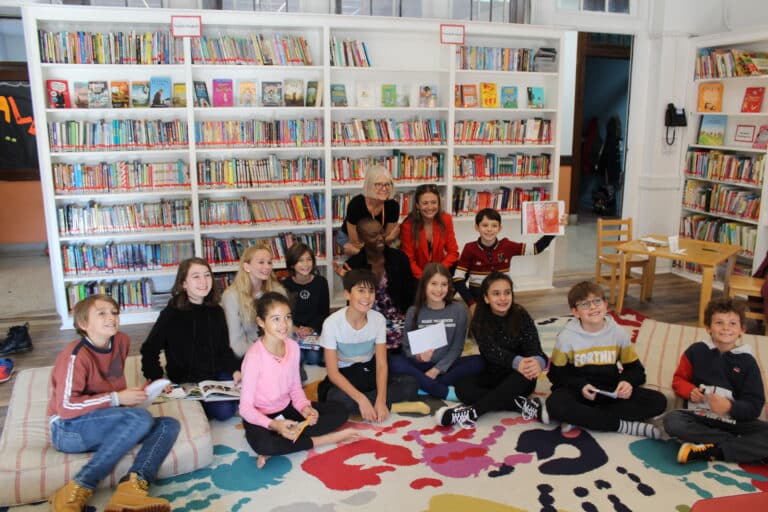 Georgie Badiel's Story
As she was growing up in her small village in Burkina Faso, fetching water was women's work. From the age of four, Ms. Badiel had to start waking up before dawn to go gather water with her mother and other women and girls in her family. At that young age, she was responsible for carrying about two liters of water during the 3-hour round trip, but as she grew, so did the size of the buckets and basins she balanced on her head. Upon return from the hot and dusty trip, she could not immediately quench her thirst, but first had to wait for the cloudy water to be boiled so it was safe to drink. She was fortunate enough to still attend school as a child despite these exhausting early-morning trips.
As she grew into a graceful and statuesque young woman, relatives encouraged Ms. Badiel to enter beauty contests. She was crowned Miss Burkina Faso in 2003 at age 18, and Miss Africa in 2004. These competitions allowed her the publicity to start a modeling career in Europe and eventually in the US. During a trip back home, she learned that her sister, who was 9 months pregnant at the time, was still waking in the early morning hours to fetch water. This was the catalyst for her to use her platform to start the Georgie Badiel Foundation.
The Georgie Badiel Foundation
The mission of the Foundation is to dig wells and install water pumps so that villagers can access clean water near their homes. A convenient source of water frees up girls to attend school, and allows women to better care for themselves and their families, even to start small businesses. Water improves sanitation and hygiene, and supports household gardens so people have better food security. The positive impact cannot be overstated. More than 300,000 people in Burkina Faso and Liberia have gained access to clean, convenient water thanks to the foundation's work, according to their website.
This video, spotlighting a young woman named Thérèse, depicts the remarkable way lives can be improved when this most basic humanitarian need is met. Ms. Badiel worked with the author Susan Verde to write the book Water Princess, based on her own experience. She also wrote the book Water is Here.
Georgie Badiel and Northern Highlands HS Students School Visit
On Thursday, November 17, Ms. Badiel, along with volunteer students from Northern Highlands High School, visited our Englewood and Jersey City campuses. The volunteers shared a read-aloud of Water Princess and spoke to our classes about the work the foundation does. Our students were invited to try to hold a large 25-liter water receptacle, in order to experience just for a few moments its cumbrous weight. Many were able to meet Ms. Badiel as she toured the schools.

FAA Hosted Our Second Annual "Foulées Olympiques"
This year, for our second annual "Foulées Olympiques" students ran laps to raise money for the Georgie Badiel Foundation on Monday, November 21 in Englewood and Tuesday, November 22 in Jersey City. Last year's foulées was a resounding success, collecting over $12,000 in donations for the Konekte Organization, a Haitian educational foundation with whom the FAA has partnered since 2018.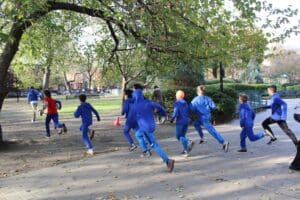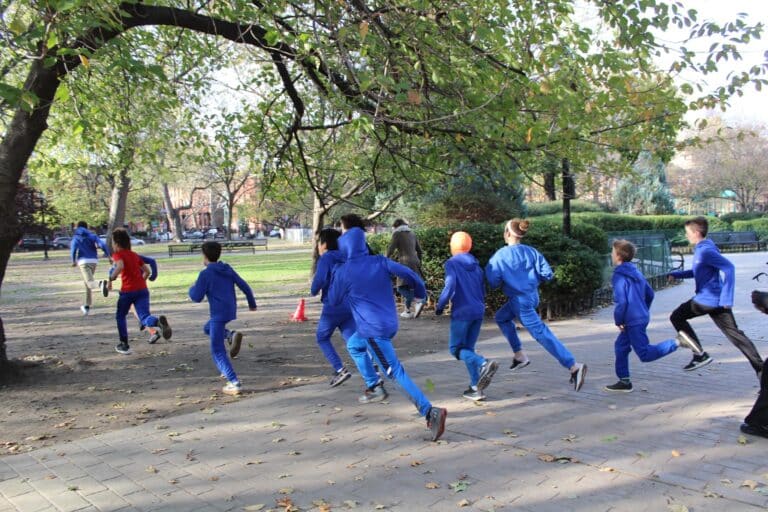 We hope to match those excellent results this year, aiming to raise enough money to help Ms. Badiel's foundation install at least one well in a Burkinabe village.
Students at FAA from PreK-4 through eighth grade trained hard for weeks in order to do the maximum number of laps, as each lap increased the amount of money they could raise. This training increased their physical fitness and mental resilience, but even more than that, students learned that they can make a difference through the power of their own efforts. They were inspired to work harder and do more, in order to help provide for children in difficult situations. We were proud to cheer them on as each one of them does their part to bring clean water to a village in need!
Allez les coureurs!