La Semaine Du Goût at FAA
By Rose Spicher
From October 10-16, in French schools throughout the world, students participated in a uniquely French cultural experience: tasting, exploring, enjoying, and experimenting with food during  "La Semaine Du Goût".
What is La Semaine Du Goût?
The "week of flavor" started out as a single day on October 15 1990, when schools and chefs in Paris collaborated to present a lesson about food and cooking to 3rd and 4th graders. This tradition spread and expanded, and now all French schools organize activities and tastings for a week (or more!). Students may:
Discuss what a nutritious, balanced diet looks like 
Engage in focused taste tests exploring appearance, aroma, texture, and flavor
Design and implement science experiments using food 
Conduct surveys and collect data about likes and dislikes
Learn food-specific terminology to more accurately describe the experience of eating
Explore different cultures and regions of the world by enjoying different cuisines 
Read recipes to prepare and cook dishes with classmates
Go on field trips to farms, orchards, or restaurants to learn where our food comes from and who prepares it for us
Discover some of the links between food consumption, sustainable farming practices, and climate change
Categorize foods based on food groups, flavors, origin, etc.
Sing songs and recite poems about foods and ingredients
Create works of art using food (the paintings of Giuseppe Arcimboldo are enormously popular in October!)
The cross-curricular approach ensures that learners of all kinds are engaged and can develop more appreciation for food. La Semaine du Goût is for everyone!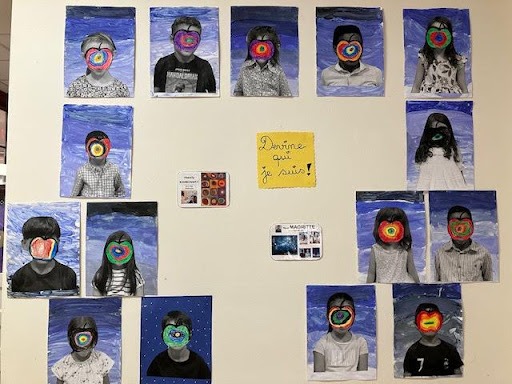 The Food-Culture Link
At the French American Academy, we are blessed to have a diverse student body that is rich in cultural and linguistic heritage. Through various activities during the year, we work to elevate our understanding of and appreciation for this diversity. Trying a wide variety of food from different places is a natural part of this experience. In our Kindergarten and First Grade class, families prepared dishes for students to share with their classes throughout the month of October, allowing everyone to taste something new and delicious a few times a week.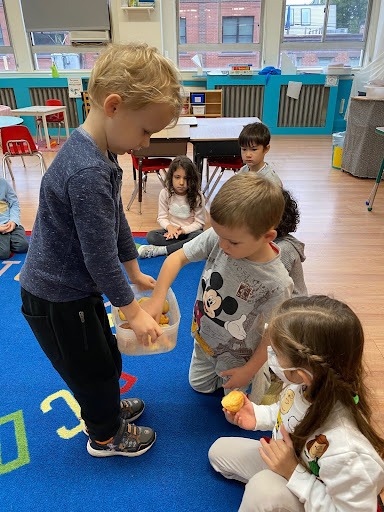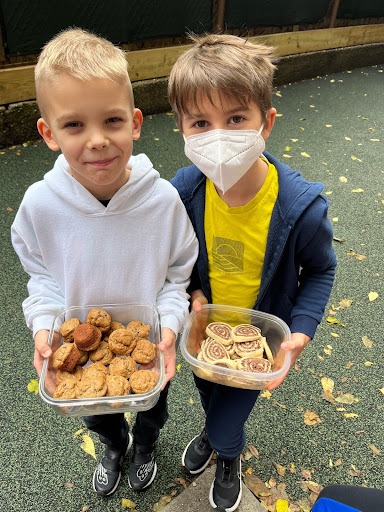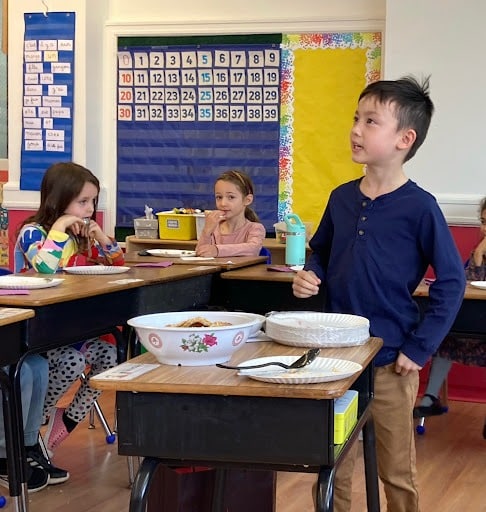 When a child shares a dish unique to their family's background, it can help their classmates understand more about them. Sharing food is a social act, and students learn to honor each other's contributions and to value what is offered. Tasting different foods can reduce ethnocentric mindsets by expanding students' worldview. Likewise, learning about different ingredients can help students appreciate the geography, economy, climate, and culture of other places as well as their own homelands. 
The Language of Taste
Naturally, in a school focused on bilingual education, we take advantage of the opportunity to introduce new vocabulary and sentence structures around the food we try during La Semaine Du Goût. Equally important is helping students learn the etiquette of expressing their opinions using respectful language. Precise vocabulary and appropriate turns of phrase can allow everyone to feel appreciated and heard. These lessons can easily be applied to other social situations that require people to express their tastes and opinions without giving offense. The inverse of this also applies: students learn to listen to others' opinions and appreciate their points of view.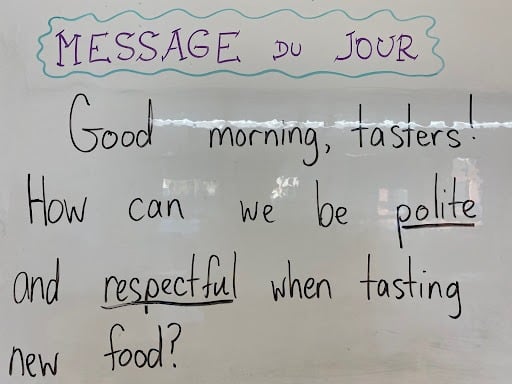 Cross-curricular Science Exploration
Thibaut Bastide's fifth graders have experienced la Semaine du Gout from a different angle. With support from Cathy Hartranft, our Science Coordinator, he has been working with his students to explore salt from many different angles. The fifth graders first practiced collecting salt, by suspending twine in salt water and observing the buildup of salt over the course of a few days. They also extracted salt by allowing water to evaporate from petri dishes and harvesting the remaining salt. They examined the salt crystals closely using microscopes, and tried their hand at observing and sketching drops of salt water. Through all these experiments and activities, the students developed a deeper, more nuanced understanding of how salt forms and how it behaves, and gained knowledge about techniques humans use to extract it from the environment.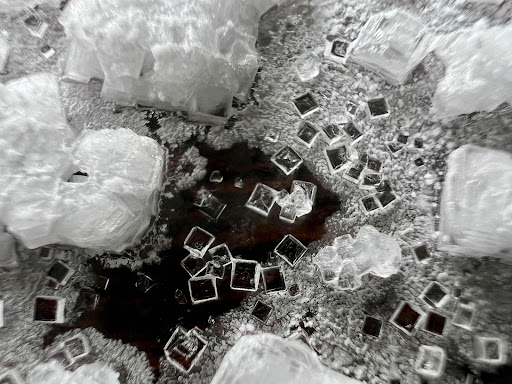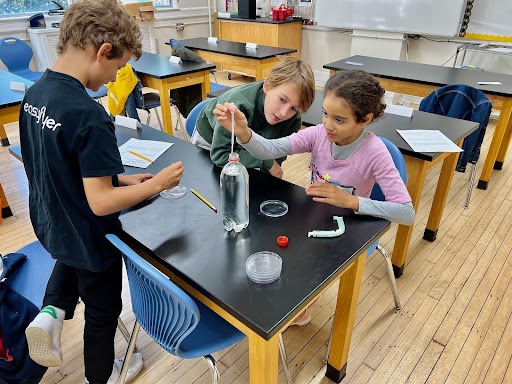 The fourth and fifth graders in Guillaume Gilbert's class celebrated la Semaine du Gout by making ice cream during their science class.  The students are learning about the different states of matter and how matter can change from one state to another.  They witnessed this first hand as their beginning liquid (half and half, sugar and vanilla) became a solid after adding ice, salt and lots of shaking.
Community Connections 
Understanding where our food comes from is critical to developing respect for our planet and an appreciation for regional flavors. During the semaine du goût, the Jersey City pre-K4s, kindergarteners, and first graders visited a local farm and orchard to learn more about how fruits and vegetables are grown and to try harvesting apples themselves. Following that, they prepared recipes using the apples they picked. In the future, teachers hope, the students will recall these experiences when they see apples in the store or in their lunch boxes, and feel renewed respect for the planet that provides their food and the people who harvest it.  
Environmental awareness in cuisine
In keeping with the same theme of local, seasonal food, Marie-Françoise's first grade students in Jersey City were asked to work with their families to prepare a simple dish using a seasonal organic fruit or vegetable. Throughout the Semaine du Gout, they presented and shared these dishes with their classmates. Because the emphasis was on fruits and vegetables, the students were able to take any unwanted leftovers to be composted at the bin in Hamilton Park. This experience, working with families to source ingredients and prepare them simply, then enjoying the food communally and disposing of it responsibly, helps deepen and expand students' understanding of the connections between food, community, and the planet.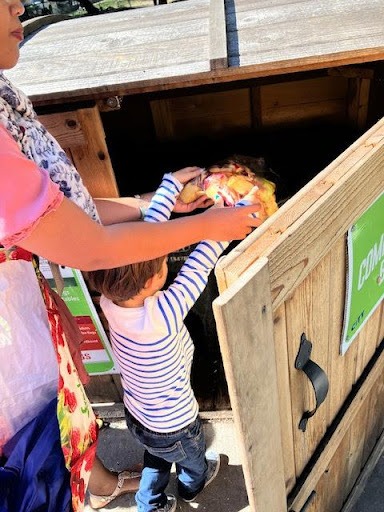 Spreading the Message at Home
With your encouragement, children can share their experiences of the things they've tasted and discussed during the Semaine du Goût with you. You can also help them practice active learning at home, by engaging them in cooking projects or exposing them to new flavors. Children should be applauded for trying food multiple times – even if they think they won't like it – and for expressing their opinions using respectful language. You can use excursions to the farmers' market or grocery store to teach your children about where their food comes from. A little garden on the windowsill or in the yard allows even the youngest of learners to appreciate the work and attention it takes to grow food, and the joy of adding homegrown ingredients to recipes. As you model curiosity and respect towards foods from different parts of the world, your children internalize these positive attitudes. 
Bon appetit!