At the French American Academy, we believe that communication among parents, teachers, and the school administration is absolutely essential for the well-being of each child. Using the Responsive Classroom approach to parent communication, we make every effort to ensure that each parent/guardian has the knowledge and information they need about their children's academic and social performance. We naturally integrate opportunities for formal and informal interaction into our academic calendar, but we also encourage parents and teachers to maintain regular communication through various channels in order to maximize our students' growth and learning. If a child experiences unexpected challenges or difficulty, we have dedicated procedures that we can implement to best address their needs while maintaining constant contact among families, teachers, and learning specialists.
The benefits of the Communication Triangle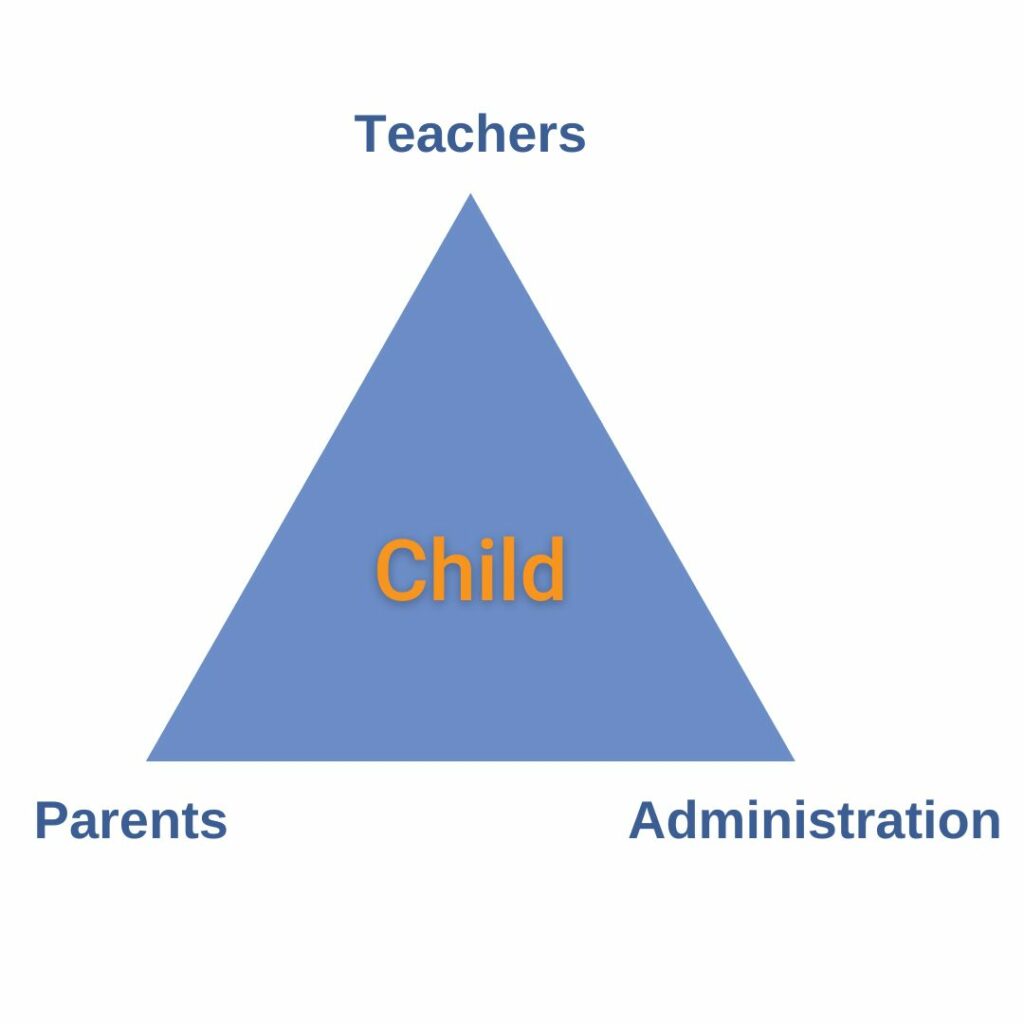 Each child's growth, wellbeing, and happiness is at the core of everything we do. Maintaining proper and effective communication yields many benefits, including:
Improved academic performance. When parents and teachers work together, they can identify any challenges that a student may be facing, and collaborate to develop strategies to address these challenges.
Better behavior. Parents, teachers, and the administration can work together to address any behavioral issues that a student is exhibiting. This leads to a more positive and supportive learning environment for the student.
Increased parental involvement. Regular communication ensures that parents remain involved and up-to-date with their child's education. This leads to a more supportive home environment, with parents demonstrating an active interest in their child's schoolwork and progress.
Improved teacher understanding. Conversely to the last point, teachers also benefit greatly from regular communication with parents, which provides them with valuable insights into the student's home life and other challenges they face outside of school.
Better collaboration. Working together, parents and teachers can develop more effective strategies and interventions that are tailored to the specific needs of the student both in and out of school.
Regular contact within the academic year
For all the reasons listed above, teachers want to make sure that students' families are aware of the progress being made in class. Our academic calendar contains moments when parents and teachers will interact:
Before the academic year officially begins, we host a meet-and-greet, during which parents can bring their children to visit the class and meet the teacher.
A few weeks after the start of class, families are invited for "Back to School" night, a presentation in which teachers share their outlook, policies, and plans for the year.
In November, we schedule our first official parent-teacher conference, a 20-minute meeting with the teachers to address the child's adjustment to the new school year and their progress so far. (PreK and K families will also receive an update via Je Valide, a progress-tracking application.)
We release report cards in January, along with detailed comments about each child's academic performance and social wellbeing for the first half of the year.
In April, we organize our second parent-teacher conference, a chance to sum up student's progress and begin to look forward to the year ahead.
Also in the spring, most classes will host families for their annual bilingual parents breakfast, during which parents can visit the class and learn about a project that the students have worked on.
The second report card is released in June, with detailed feedback from the teachers about the child's cumulative learning throughout the year.
In Middle School, parents have access to Gradebook to monitor their child's grades.
Aside from these scheduled events, teachers keep parents abreast of events in class through regular email, class blogs (such as Seesaw or Google Classroom), and for younger students, the cahier de vie, a scrapbook of notable activities from school and home. Other events involving parents might also be organized, such as shared birthday celebrations, important cultural moments like Martin Luther King, Jr. Day, field trips, or lessons during which parents come to share their expertise.
Who is on staff to help your child?
In addition to our classroom teachers (and assistants, for younger groups), our pedagogical coordinator and school directors help to monitor and coordinate communication among families regarding student progress. We also work with specialist consultants Agathe David-Weill, Licensed Clinical Social Worker, and France Weill, Ph.D, who is a bilingual licensed speech pathologist. Our school also provides academic support, as well as French and English supplemental classes, to students demonstrating particular needs.
Addressing difficulties as a team
Regular, effective communication is important for all students, but when a child experiences academic, social, or developmental difficulty, the Communication Triangle structure becomes critical. As teachers are interacting with children regularly in the classroom environment, they are usually the first to observe when students are encountering challenges. After observing the child and sharing notes with our co-teachers and director, we reach out to parents to share our observations, concerns, and recommendations, as well as to hear their perspectives and request their support in intervening at home. Frequently, these preliminary steps are sufficient to address the challenges we observed but if they aren't, we work together to develop a PPRE or a PAP. (In the case of specific medical needs, we will implement a Plan for Individualized Action, known as a PAI.)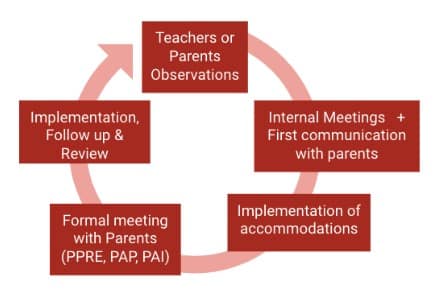 What are the PPRE and PAP? 
A PPRE is a Plan Personnalisé de Réussite Educative, translated at the FAA as "Personalized Plan for Rewarding Education". (The American equivalent of the PPRE is an Individual Service Plan, or ISP.) An initial meeting to develop a PPRE allows teachers and parents to note the child's strengths and areas for improvement, to document interventions already established and set benchmarks for continued growth. The PPRE is revisited and reevaluated several times throughout the year by the intervention team, and can follow a child from one grade to the next. Aside from teachers, parents, and the pedagogical coordinator, we may include one of our own consultants (speech therapists and social workers who work closely with our school) and/or an external specialist that the family has chosen.
The PPRE is a valuable tool for documenting the most effective actions and progress being made. If the interventions are successful, the team may decide that the student no longer needs a PPRE.

For students who present with longer term difficulties such as dyslexia, dyspraxia, or ADHD, the team may decide to establish a PAP: Personalized Action Plan. The PAP is necessary for students who require permanent learning accommodations in order to access the curriculum such as customized seating or adapted learning materials. As with the PPRE, the teachers, family, school administration, and any implicated specialists meet regularly throughout the year to share notes and document progress. This regular communication is absolutely critical to ensure that the students' learning is being monitored and strategies we implement are continuously effective.
How can parents foster stronger communication?
Students benefit from parents who are involved and interested in their school life, and teachers always appreciate receiving feedback and information about their students from the parents' perspective. Parents can further reinforce the link between home and school by:
checking homework daily
asking questions about school and expressing an interest in the child's school life
following the class blog (on Google or Seesaw) closely
taking time to discuss report cards and parent-teacher conferences with children
participating in the FAA PTO
attending the head-of-school breakfasts
Teamwork makes the Dream Work!
Ensuring that every child is at the center of our Communication Triangle sets them up for academic achievement and emotional wellbeing, regardless of their age or grade level. By incorporating regular opportunities for parent-teacher interaction into our school calendar, and maintaining a clear protocol in case of academic or social difficulties, we ensure that our students and their families receive the information, support, and guidance that they need for constant improvement and success.