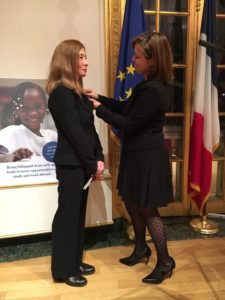 Last week, our Art Teacher, Claudine Parloff was awarded Les Palmes Academiques by Benedicte de Montlaur at the French Consulate in New York.
This distinction rewards Claudine's lifetime commitment to education.
Claudine has been associated to the French American Academy since its inception in 2007.
Through Claudine's award The French American Academy as a whole is honored.
We want to congratulate Claudine Parloff and express our deepest gratitude to her for being part of our team.