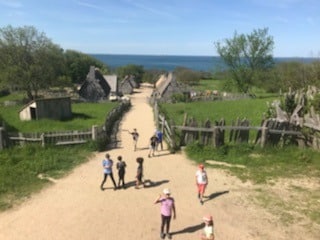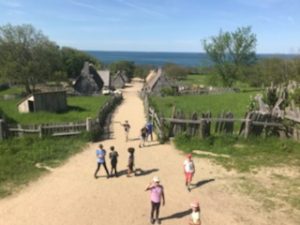 What an exciting start to our trip! Plimoth Plantation was our first stop, and the children were excited to see the history they studied during the year come to life. They visited a Wampanoag village where many of their questions seemed to be testing the knowledge of the Wampanoag villagers. As experts on the subject, our students seemed quite pleased with the depth of their own knowledge. 🙂
Sitting in a birchbark canoe, exploring the fort in Plimoth settlement, and learning a traditional colonial dance were just some of the highlights of our visit here.
Next stop, Quincy Market. We had a great time walking through this eclectic and energetic part of Boston. Choosing from a variety of dinner options, the children filled their bellies and afterwards, were ready to do some walking. We stopped to watch street performers, and even did a bit of shopping. Stay tuned parents! Your children are coming home with some fun souvenirs.
Once we checked into our hotel, the children quickly settled into organizing their belongings, showering, and brushing their teeth. They are now tucked safely and comfortably in their beds. Tomorrow, we will walk the Freedom Trail and visit the aquarium for another fun filled day!