Example of a Project-Based Learning in the Classroom
Our 7th-grade students took on the role of being engineers in their science class, and as a team, they built a windmill that produced 22 volts of energy.
Over the course of a few weeks, with the teacher's support, students used their problem-solving skills and science knowledge and researched ideas to figure out how to build the windmill. The process of constructing the windmill reinforced students' academic knowledge and challenged students' perseverance as there were many trials and revisions of the project. The windmill project is part of our project-based learning pedagogy of educating the whole student as it teaches academic knowledge and, importantly, also fosters the development of the necessary skills needed for students' success.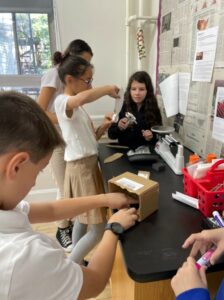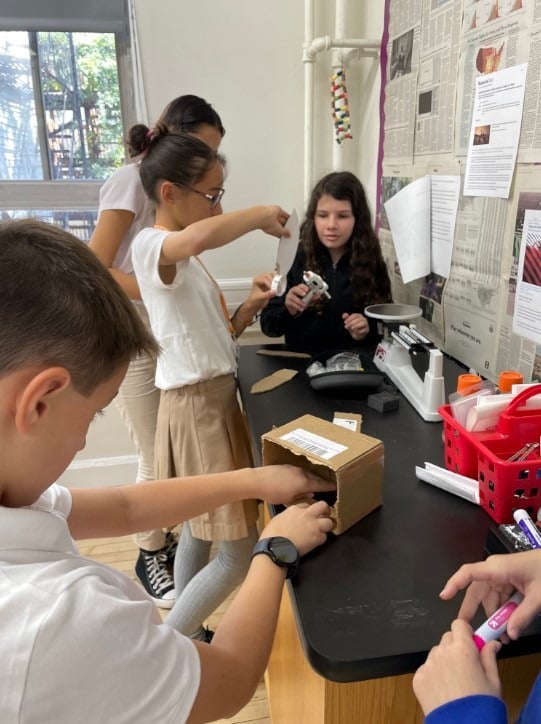 The Windmill Project is an Interdisciplinary Project
The project-based learning pedagogy at the French American Academy allows students to build connections and understand concepts and skills across different disciplines. The windmill project incorporates topics from the humanities and science classes. In the humanities class, students read "The Boy Who Harnessed the Wind," by William Kamkwamba, a book based on a true story about a young boy who, with determination and resilience, builds a windmill out of scrap yard parts to produce electricity for his family's home. Students applied science lessons on energy and built many prototypes before successfully creating a working windmill. Similarly to William, throughout building the windmill, our students learned the important skill of resilience and perseverance.
The Process of Constructing the Windmill
The middle school students were challenged to use their knowledge and class lessons and to work together as a team to build a windmill model with minimal direct instruction on how to construct it from the teacher. In the science class, the students received science lessons on forces and energy. To produce a working windmill model, students applied their knowledge to collaborate on ideas, conducted independent energy research, and created teams. The teams worked on various parts of the windmill model, such as the blade, generator, and base. Students also adjusted their teams based on student strengths to make them more efficient. Students created multiple non-working models of windmills, but with the support and feedback from the teachers and numerous revisions, our students successfully constructed a windmill model that produced 22 volts of electricity.
Student Outcomes of Project-based Learning
The process of building the windmill has taught students to understand on a deeper level the issues and sacrifices disadvantaged communities must endure and persevere, as demonstrated in "The Boy Who Harnessed the Wind" book. Students also deepened and reinforced their knowledge of scientific principles and further practiced and developed their collaboration, communication, resilience, and problem-solving skills. As one of the competitive middle schools in Jersey City, we use project-based learning in the classroom as it is an effective way to cultivate students' "need to know" and provide them with an active role in their education.