At the French American Academy, oral language skills naturally form the nexus of our curriculum at all levels. Our goal is to prepare our students to share information and opinions, debate, speak publicly, and engage diverse audiences fluently, with confidence and independence, in order to prepare them for the challenges they will encounter in high school and beyond.
Elisabeth Spettel is passionate about developing oral fluency and versatility in our middle school students. When she isn't teaching art in Jersey City, she is presenting a Media and Information Education class that blends digital literacy, social studies, writing, and history, and each unit features a strong spoken language component. Students from 6th to 8th grade participate in a diverse array of projects, each of which allows them to build and reinforce their knowledge while they synthesize information and gain experience presenting it to an audience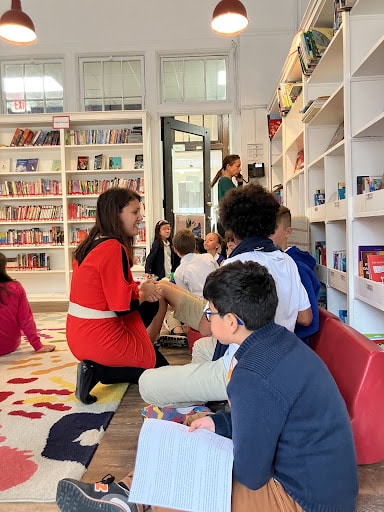 Preparing and Conducting Interviews
Working with sixth grade students on journalistic skills, Ms. Spettel provided them with instruction in how to form insightful, well-crafted questions for interviews. Students first practiced these skills by interviewing adult mentors and reporting their results. Ms. Spettel then reached out to our history teacher, Laurence Decugis, who was preparing the students for their unit about ancient Greece, and they worked together to assign each student a god or goddess to "interview". After writing the questions, the students made recordings of their interviews, with other classmates playing the deities being questioned, and shared them with the class. Applying their newly learned knowledge of the antiquities in this way reinforced and deepened their understanding, but it also provided them with a safe way to practice language, improve pronunciation, and develop fluency.
"Les Rebelles de l'Histoire"
FAA seventh graders are focusing on more recent history, in their unit entitled "History's Rebels". In this ongoing project, each student has chosen a groundbreaking activist, icon, or athlete to study in-depth. Ms. Spettel asked them to present the information they collected in two ways. Each student had to plan a comic strip about their "rebel's" life.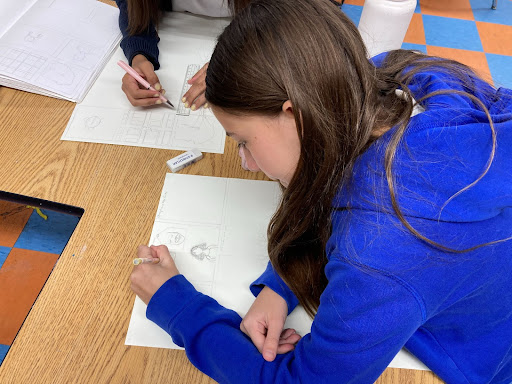 They worked on the layout, the artwork, and the information to be included, carefully considering how to best synthesize the information in a factual, entertaining way. At the same time, students were tasked with writing and recording a podcast all about their historical person. Ms. Spettel explored both forms of media thoroughly with students: How can they hook in their audience? What information should they include? How would they present information about the rebel's life without simply listing events? While researching, writing, and delivering this information, students refine their speaking and presentation skills in deeply meaningful ways.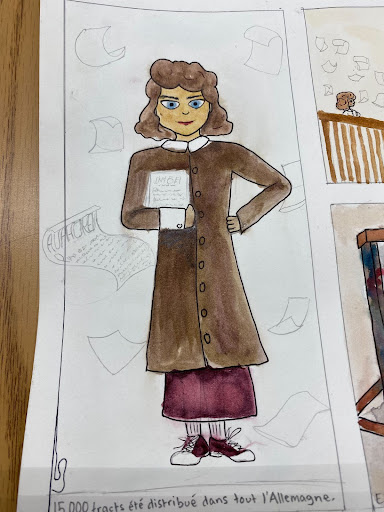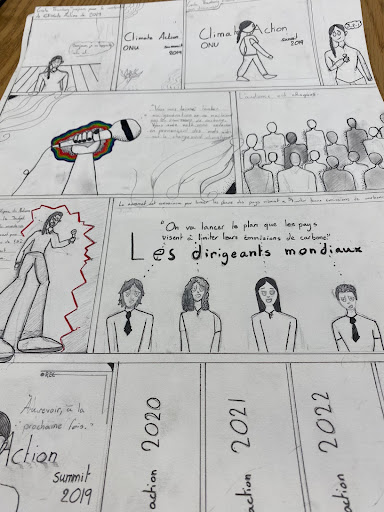 Public Discourse with the "Orateur/Oratrice en Herbe" Program
Developing digital literacy is crucial for today's young people, as they must learn to be as comfortable and capable navigating online spaces as they are in real life. In April and May, our middle schoolers debated the updated existential question "I post, therefore I am?". They questioned the divide between public and private life, and explored the ways in which an online presence may boost or hinder socialization and the development of personal identity. After gathering information and forming opinions, the students wrote and rehearsed their own 3-5 minute speeches presenting their points of view. This exercise culminated in an FAA "Budding Speaker" exposition, during which each orator addressed a mixed audience of students and adults with their prepared speeches.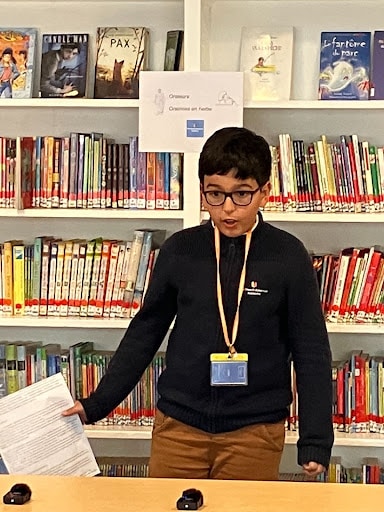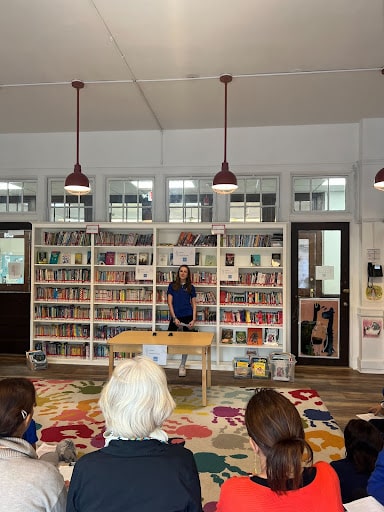 Building Confidence through Self-Expression
Our goal at the FAA is to build oral language skills through cross-curricular activities and meaningful projects that spark interest and enthusiasm. Through these projects we compel students to reflect deeply on their ideas, craft engaging arguments, and deliver information through various mediums such as podcasts, recorded interviews, class presentations, or speech competitions. We work to ensure that students learn not only to express themselves articulately, but to have the confidence that comes from knowing that their words, and the skillfulness with which they deliver them, matter.