Sitting still takes energy! 
Maintaining the discipline to digest new information in the classroom while remaining calm and still can be very draining. For this reason, Responsive Classroom teachers are vigilant about students' energy levels and their ability to concentrate. We know that focus can't be forced. Energizers are a tool that teachers use to enhance receptivity and reestablish focus in the classroom. If you're interested in learning how to motivate students and boost their energy, energizers are a great place to start.
How do Energizers work?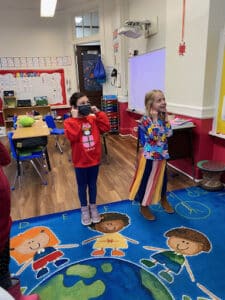 It may sound counterintuitive, but pulling students' awareness away from academics and into their bodies is an excellent way to bring back concentration. An energizer activity releases the brain's sustained attention and allows the eyes and muscles to relax and move freely. It may also serve to reinforce social bonds and highlight cooperation. Something as simple as taking a few deep breaths and focusing the eyes on a different point can give the brain a break from learning, but often, the best brain breaks are physical energizers. 
Teachers in Pre-K and Kindergarten naturally incorporate physical activities such as dancing, physical challenges, manipulative learning, and gestures into their lessons, maximizing variety and interest while channeling young students' natural energy. With increased academic demands in elementary school, teachers must be more mindful of seeking moments for brain breaks and energizers for their students. 
How We Motivate Students: Energizers at the French American Academy
Here are some popular energizers our teachers and students enjoyed recently:  
Thibaut Bastide's fifth grade classroom, students participate in "would you rather" games that link their preferences to exercise moves. Would you rather (a) hug a tarantula or (b) pet a snake? Do star jumps for (a) and squats for (b)!

"Four corners" is an excellent way to get students moving around the room, while reinforcing vocabulary or other concepts. Martha Sebti's fourth graders play a completely silent version, using gestures and facial expressions to convey instructions to each other as they move across the room. 

In third grade, Céline Clément's students play rhythm games by stomping their feet, slapping their desks, and clapping their hands. 

David Sanchez's third graders enjoy statue freeze games and Simon Says. 

In Benjamin Toms' second grade class, students shoot baskets for points as a reward for demonstrating good study habits.

Several teachers incorporate yoga and breathwork into transitions, especially when cycling from physical activities to quieter desk work. 
The things all these energizers have in common is that they're short (5 minutes or less), they take the students' minds and/or bodies away from their desks for a few refreshing moments, and they force students to breathe and move. By incorporating a few energizing brain breaks into their day, teachers inject joy and energy into the classroom so that students can return to their learning feeling more connected and focused. If you seek ways to motivate students and create a positive classroom environment, energizers can be a powerful tool to achieve those goals.
Want to keep the energy flowing? Check out this insightful blog to learn more about energizers.
Purposeful Play: How Energizers Support Learning for Students and Adults 
Are you loving Rose's blog and are eager to read more on responsive classroom approach? Great news! We have a more of blog posts waiting for you to dive into.
Building Classroom Communities in the First Month of School