As the summer season approaches, our students and teachers alike are anticipating the break from school, filled with days of relaxation, fun, and adventure. However, two months away from classroom learning can result in the loss of academic skills and knowledge known as "summer slide". Families without French or English speakers may also be concerned about a loss of the language skills their children gained during the school year. In this blog post, we will share seven effective strategies to ensure that summer is educational and enriching for children, while also remaining fun.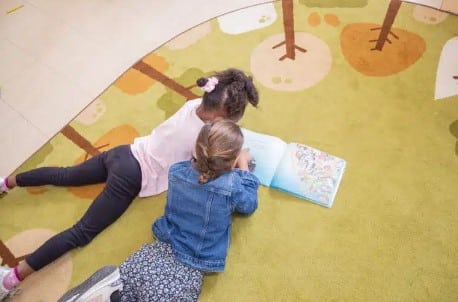 1. Embrace Reading
Encouraging a love for reading is one of the most effective ways to combat summer slide. Set aside dedicated reading time each day, allowing children to choose books that interest them. Visit local libraries together, participate in summer reading programs, or start a family book club. By immersing themselves in the world of books, children can enhance their vocabulary, comprehension, and critical thinking skills. French American Academy teachers frequently provide students with summer reading assignments or suggestions to help them prepare for the upcoming school year, and primary students also retain access to their Kids A-Z accounts.
2. Engage in Interactive Learning
Make learning fun by incorporating interactive activities that promote hands-on engagement. Encourage your child to pursue their interests and hobbies during the summer break. Consider science experiments, cooking projects, gardening, or artistic endeavors. These activities provide opportunities for learning and exploration while nurturing creativity and problem-solving abilities.
3. Enroll in Summer Programs or Camps
…such as the FAA bilingual summer camp! Structured activities in summer camps provide a balance between learning and recreation, allowing children to expand their knowledge and skills in an enjoyable environment.
4. Explore the Outdoors
Summer is the perfect time to explore nature and the world around us. Plan family outings to parks, nature reserves, or historical sites. Engage in outdoor activities such as hiking, camping, or bird watching. Encourage children to observe and ask questions, fostering their curiosity and building their knowledge of the natural world.
5. Use Technology Wisely
Harness the power of technology to supplement learning during the summer months. Educational apps, online courses, and interactive websites offer resources that make learning engaging and accessible. However, technology usage should complement, rather than replace, other learning activities. We strongly recommend setting time limits for all types of screens!
6. Keep a Learning Journal
In Pre-K and Kindergarten, one of our favorite learning tools is each student's cahier de vie, a sort of journal or scrapbook documenting events in and out of the classroom all throughout the year. Consider replicating this experience by having your child maintain a summer notebook, which can hold notes, drawings, pictures, and mementos of various experiences. This can help children improve their writing and artistic skills as well as reflect on the knowledge they are gaining throughout the summer. These journals or scrapbooks can also be a valuable keepsake, allowing children to look back on their summer adventures in the years to come.
7. Seek Opportunities for Language Immersion
Immersive language experiences don't have to involve an expensive plane ticket! Take advantage of the French American Academy's strong parent network to set up playdates or outings with families who don't share the same native language. As previously mentioned, our bilingual summer camp is also an excellent option for those seeking to maintain their language proficiency. You can find French language events through the Alliance Française. Everyone is invited to the FAA's Bastille Day celebration on July 14!
A Season of Learning and Discovery
Summer break doesn't have to mean a break from all learning. By implementing these strategies and activities, you can help prevent the summer slide and transform the break into a time of exploration, growth, and enrichment. Encouraging reading, hands-on learning, participation in summer programs, and language immersion ensures that children continue to develop their skills, knowledge, and creativity. Bonnes vacances!