Building Classroom Communities in the First Month of School
By Rose Spicher
It's 8:35 on a Wednesday morning, and the students in Marie-Françoise Morandais' first grade class are enthusiastically zapping each other with electricity during their morning greetings. They shudder dramatically from the simulated jolts, dissolving into giggles after each turn. It's a lighthearted moment at the beginning of the day, not mentally taxing or stressful. Each child gets to give and receive a greeting, establishing a connection with their classmates. They aren't aware of this, but their bonds with each other are being strengthened, which is exactly the point of this Responsive Classroom exercise.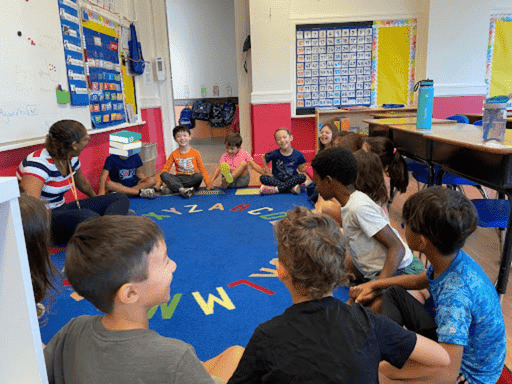 A Learning Community
It's no secret that humans – not just children – learn more when they feel comfortable. People need to feel safe, unjudged, and stimulated so they can learn and retain information. A Responsive Classroom teacher's way of addressing this need among students is to start building a community of learners from the first day of school. Cultivating rapport among classmates and teachers yields benefits that will last the entire year. When we trust each other in our classroom community, we're more likely to take learning risks together, expanding our horizons. Cooperating effectively within our community can create a heightened sense of interest and ownership of collective projects, stoking passion for learning and achievement. When behavioral difficulties arise, they can be resolved more calmly and effectively because students know they're in a safe environment. Feeling close and connected to those around us can also result in more unscripted moments of genuine joy and togetherness.
What happens in morning meetings?
At the French American Academy, teachers intentionally design activities and discussions to highlight our students' connections with each other, using the Responsive Classroom approach. Even the youngest groups start the day with a morning meeting – a chance for students to gather round, greet each other, share something about themselves, do a fun activity, and listen to and discuss a message from the teacher. In the early days of the school year, these privileged moments of togetherness are absolutely crucial, establishing from the very beginning an atmosphere of interest, encouragement, and respect.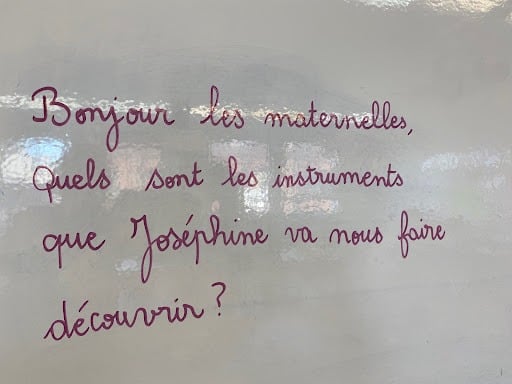 Through morning meetings, students practice important conversational skills, such as active listening and turn taking. Teachers can take advantage of these moments to reinforce appropriate, safe ways to sit together, move around the classroom, and share space with each other. During the greeting and sharing phases of the morning meeting, students gain knowledge about each other, and their connections to each other are highlighted and strengthened. The morning message, especially during the first month of school, is used to give students information about their daily routines, their special classes, and new rituals they will learn about. The skills, knowledge, and connections that students acquire during morning meetings are no accident, but rather a guiding principle and an essential step in cultivating the sense of community.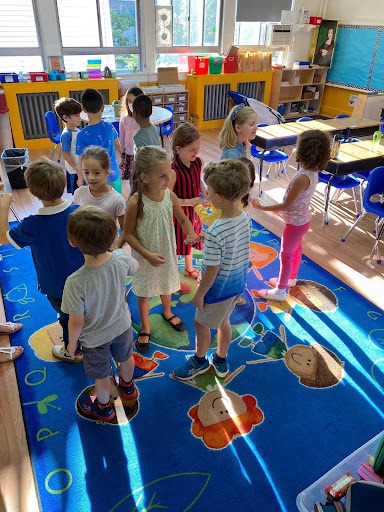 Community Collaboration
A strong classroom community comes together not only for the morning meeting and discussions, but also to meet and tackle academic challenges. In a recent third grade math lesson, teacher David Sanchez in Englewood challenged his students with various conceptual math problems, and then gave them time to work in independent groups to solve the problems. During the sharing phase after the group work, he stepped back and allowed his students to explain their processes and help each other understand the difficult concepts. This was a math lesson, but David also made sure to frame it as a collaborative exercise, and he took the time to highlight the way the group functioned together to solve the problems. Realizing their own potential to achieve success by collaborating can be very empowering for students.
Ownership and Investment
A shared art project at the beginning of the year can beautify the classroom and give students an opportunity to work together and express themselves. In Aline Jourdrin's first grade class, students were given the outline of a drawing and expression. They worked together to paint and decorate it, and to add their own designs to the letters. This work was entirely cooperative among the students, and it was turned into a colorful decoration for their class door. Each morning, entering their classroom, these students are reminded of the beautiful work they did as a community.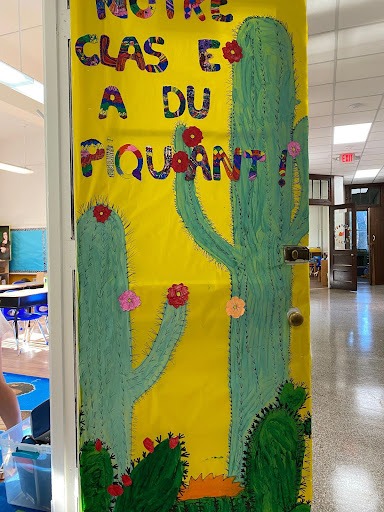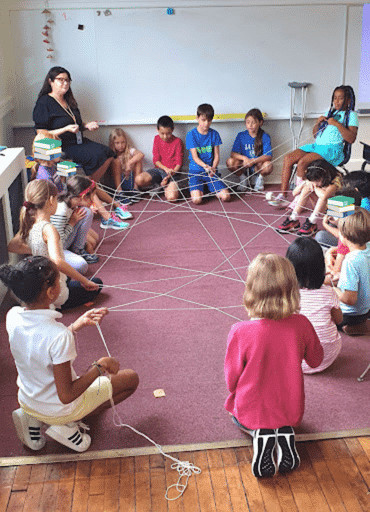 In older groups, students are invited to collectively dig deeper into their group culture and their roles and responsibilities, through discussion and negotiation. Students in fourth grade engaged in debate to help establish the class expectations and to determine what responsibilities they thought they could handle in the class. Their teachers gently guided this process and encouraged agreement, which helped establish a genuine sense of ownership among all students. The same group worked together to form a web of string, which their teachers used to highlight the students' responsibilities and reliance on each other. The result was that students began to conceptualize their own behavior as impacting every single member of the group in a positive or negative way.
The Year-long Effect
Forming meaningful connections among classmates is perhaps the most important mission a teacher has at the beginning of the school year. With a sense of community comes joy and empowerment in our work, responsibility and belonging in our group. We work hard and take time to establish and maintain these strong relationships so that our students can reap the social and academic benefits all throughout the year.